Klipsch have added an in line mic and iPhone controller to their top of the range Image X10i.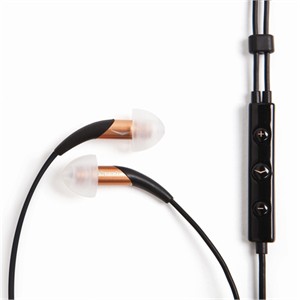 One of the world's smallest and lightest in-ear headphone designs, using a single wideband balanced armature driver, for comfortable wear and audiophile-quality listening. Although tiny, each machined aluminium and finished in anodized copper ear piece looks stunning. The X10i also includes an advanced mic and 3-button remote (as seen on the Klipsch Image S4i) for taking calls and controlling the music content on your iPod, iPod touch or iPhone 3GS.
The X10i positions its in-line microphone and remote at the yoke—where the two cables meet at chest level—to create a more natural feel when answering calls and controlling music.
Because the microphone is a highly responsive 360° design, you don't have to talk down into it or hold it close to your mouth. The microphone has also been designed to cancel echo, which keeps it from picking up surrounding noise reflection so your voice always sounds clear as a bell.
Inside the well designed box you get a sleek hardshell carry case, an aeroplane socket adapter, a 3.5mm-to-1/4″ adapter, the X10i, a clothing clip and a variety of single and dual-flanged ear tips.
Just like the Image X10 before it, the Image X10i gives a big warm bottom end which is solid and defined. They cope with vocals beautifully and have a crisp contemporary presentation that will see iPhone owners Dubstepping, Rocking out or relaxing to Acoustic chillout in style. Be aware that the X10i is not for casual listening. If you rip your digital music files using a low bit rate, the high resolution Klipsch Image X10i earphone will uncover the flaws in your content.
Compatibility
While the Image X10i serves as a pair of premium headphones for any device with a 3.5 mm headphone jack, its mic and remote system handles the music and/or voice control of the following Apple products: iPhone 3GS, third generation iPod shuffle, second and third generation iPod touch, fourth and fifth generation iPod nano models and the iPod classic 120GB.
If you have an iPod touch or iPhone and Wi-Fi access, you can also use the Image X10i with VOIP (need an adapter for PC or Mac), Skype and iChat.
More Information
For More information on the X10i and the rest of the Klipsch earphone range please check out the HiFi Headphones web store.