If you are one of the lucky ones who managed to get tickets to The Gadget Show Live at the NEC before they all sold out then we have a great way for you to save some money on a pair of high end IEM earphones – the Phonak Audéo PFE.
When you get to the show just grab a copy of the show guide where you will find a voucher for a 10% discount on the price of any of the Phonak Audéo PFE models.
Have you ever tried an award winning pair of earphones?
Find out what you're missing. Audéo PFE are more than just earphones – they are designed to fit perfectly and deliver perfect sound quality, while reducing unwanted external noise.
For those who love music, from those who know the most about hearing. Audéo – perfect fit for perfect sound.
How healthy is your hearing?
Visit Phonak at booth G31 for a free 5 minute hearing assessment, courtesy of Hear the World, or try the Audèo Perfect Fit Earphones for yourself.
Phonak has unrivalled knowledge of the human ear and has been producing state of the art hearing systems for more than 50 years to help significantly improve peoples' ability to hear clearly.
See the full range of Phonak earphones.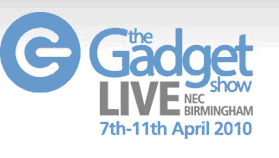 Visit the Phonak Stand – Booth G31- at The Gadget Show live and try the Audeo PFE for yourself