ULTRASONE headphones have been available in the UK for a while finding favour with Audio professionals and Audiophiles alike. 2010 sees new vigour in their desire to become one of the big boys of the buoyant UK headphone market. ULTRASONE began in 1991, seeking to brand itself as an innovative company, their research and invention has seen them apply for several interesting patents. ULTRASONE are located in Tutzing, close to the Alps in South Germany, and are sold in more than 50 countries Worldwide. Production is separated at locations in Germany, the USA, Austria and Taiwan.
Headphones that protect you from Electromagnetic radiation?
In 1997 ULTRASONE began developing their first ULE shielded headphones. Electronic equipment emits low and high frequency electromagnetic radiation which experts agree can be harmful to our health. Most headphone drivers produce low-frequency magnetic fields as they convert an electrical signal into the acoustic signal we hear as music. ULTRASONE has developed an MU Metal shielding called ULE (for Ultra Low Emissions) that reduces this radiation by up to 98% in comparison to conventional headphones.  ULTRASONE's patented ULE-technology brings magnetic field emissions of headphones down to around 90 nT, that's ten times less than many headsets and headphones!
S Logic is Natural Surround Sound
S-LogicTM is ULTRASONE's attempt to create a Natural Surround Sound, they want the listening experience to be 3 dimensional. Basically it is a passive type of surround sound, requiring no extra equipment, it creates the illusion of space and movement increasing soundstage impressively in closed back headphones. This is achieved with off center driver placement and earcups which allow the shape of the outer ear to perform it's natural job of aiding directional hearing. S-Logic™ allows a reduction of sound pressure levels at the eardrum by up to 40% (3 – 4 dB) reducing the risk of hearing damage while providing hours of fatigue-free listening.
Pro, DJ, Hifi and Edition 8
ULTRASONE break their range into four different areas which are Pro, DJ, Hifi and Edition 8. This is typical German efficiency in action, a brilliantly simple method of helping you narrow your choices and providing a headphone for every purpose.
ULTRASONE PRO headphones are exclusively designed and equipped for the professional audio sector. Each model in the PRO range demonstrates faithful sound reproduction to meet the most exacting needs of musicians and critical listeners alike.
The ULTRASONE DJ range were developed with the very specific way Mix Masters use their headphones in mind. Bringing together Durability, high output, a massive clear sound and distinguished looks, ULTRASONE asked what DJ's wanted and gave it to them!
ULTRASONE's HFI consumer-range reflects their professional heritage, fine quality sound is complemented by striking design in this versatile series. Uncompromising headphones for music, personal cinema, and gaming; at home, work, or on-the-go…
…and then there's the Edition 8's
Edition 8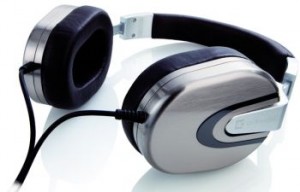 Edition 8 incorporates stunning attention to detail in every aspect of headphone design. Each Ultrasone Edition model's extensive development additionally brings together the latest progression in technologies, brilliance in design, premium quality of materials and long-standing expert knowledge in natural sound performance. Ultrasone invite you to enjoy the composition of the new Edition 8.
Edition 8 Ruthenium is hand-made in Germany. The outer ear cups are covered in Ruthenium, this precious metal is known for its brilliant metallic sheen and durable properties. The outer ear cups are emblazoned with a decorative clasp of noble metal.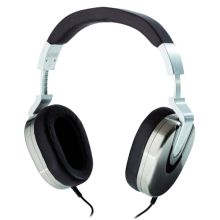 The greatest Closed back headphone of all time? No manufacturer has ever put this level of effort and attention to detail into this section of the headphone market. Ultrasone have produced a supremely comfortable, light and undeniably handsome unit which has to be heard to be believed. Although many high end headphones are instantly impressive to the ear few genuinely surprise, the effect of the Edition 8 is instant, leaving you with the belief that the earcups and drivers may have been designed by the alien race who made the TARDIS. It's all there, from the lowest sub bass rumble to the near in-audible sonic sparkle at the top of our hearing, but it's the holographic stereo imaging that simply defies belief.
The interior ear cups of Edition 8 headphones and the headband are covered in very soft genuine dark grey Ethiopian sheepskin leather. This is the finest leather available and provides the finest isolation of any leather. In addition to a new titanium plated tri-bass-tube driver, this is the first Edition series headphone that follows Ultrasone´s newest S-Logic™ Plus technology. Edition 8 headphones also contain MU-Metal shielding that reduces magnetic field emissions. Finally, these headphones come with an exclusively manufactured carry bag made from smooth, fine grain Madras goatskin produced in France. Ultrasone travelled the world in search of the finest materials, only those manufacturers that have proven their high standards of quality by working with the most exclusive and luxurious automotive and clothing brands were chosen as suppliers for the Edition 8 series.
Pro 900
The foldable PRO 900 is the first closed pair of Ultrasone PRO headphones with the patented S-Logic Plus technology. This sophisticated new technology combines precision dampening with micro-acoustic reinforcement, allowing driver, buffer-board, and spatial parameters to complement one another in an optimal manner. So the acoustical design of S-Logic Plus models and their tonal fine-tuning result in maximum neutral sound impression with more vivid perception of voices and instruments.
The Pro900's have a smooth, warm feel and just the right amount of  treble sparkle, they bristle with an engaging musicality. The bass is big but not overbearing, powerful yet capable of communicating subtlety. The midrange is warm, refined, articulate and although there is a massive amount of detail they seem to refrain from becoming overly analytical. The top end is detailed and crisp adding up to a surprisingly wide sound stage for a closed set of headphones ( S-LogicTM ), thereby giving a broad presentation with excellent instrument separation.
The Pro900 has a rich yet balanced sound with powerful bass response that is complimented by detailed and controlled treble and mid range frequencies.
HFi 780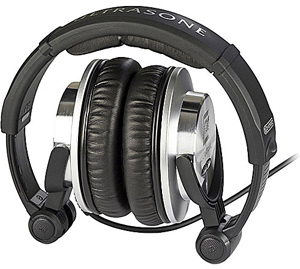 It's the age old problem, you want to have a pair of open-back headphones that offer a wide, natural sound but at the same time want to keep your music within the confines of your cans. Open-back Sound with Closed-back convenience – is this too much to ask? Not at all! Loaded with all the Ultrasone Technology you could wish for, as well as a handy foldable design and a 1m cable for portable use plus 3m Extension Cable for home listening,  the 780's will suit just about any application.
Ultrasone claim the HFI-780 has been "specifically tuned for DVD and gaming", the low frequency ranges being risen in order to reach the highest possible synergies with DSP-Systems like DOLBY HEADPHONE™. This does these fantastic Headphones somewhat of a disservice as they would sit happily within any HiFi/Studio environment, the level of detail being a particular plus point for professional engineers and hifi enthusiasts alike. However, the real masterstroke is the size of the Soundstage; the width and weight from the wings through to the Phantom Centre is huge – then you remember this is a closed back! Bass is well represented, accurate and deep. The top end shimmers with excitement, backed up with a warm and precise mid range that would suit any genre from pop/rock through to Classical and Dance making the HFI-780's a stand out model in this very impressive Ultrasone stable.
DJ1
Tested by some of the worlds finest DJ's The Ultrasone DJ1 are the final word in cans for mixologists everywhere. Ultrasone have used not only the patented S-Logic™ Plus technology but also also Ultra Low Emission Technology. Safer hearing aspects have become very important for DJs. With its heavy duty Mylar driver the DJ1 provides powerful sound. The DJ1 is made for compact storage (transportation bag included) and one-ear-listening due to the folding-mechanism.
15G
Ultrasone 15G lightweight headphones are unbelievably comfortable.  This is the smallest headphone of the Ultrasone HFI line,  punching well above their weight they're excellent for mobile applications or as a hearing aid for watching TV. Outclassing Sennheisers excellent PX100, is this the headphone to knock Grado's iGrado from it's perch of portable superiority?
More Information
For more information on the Ultrasone Headphone range please visit the HiFi Headphones store.