Surprise! So, it turns out the electronics for head-tracking have always been included in every single Audeze Maxwell that has ever been shipped. The news however, is that Audeze has just announced the beta launch of a firmware upgrade that finally enables said head tracking support – which will at first be compatible with the Dolby Atmos® Renderer for professional mixing.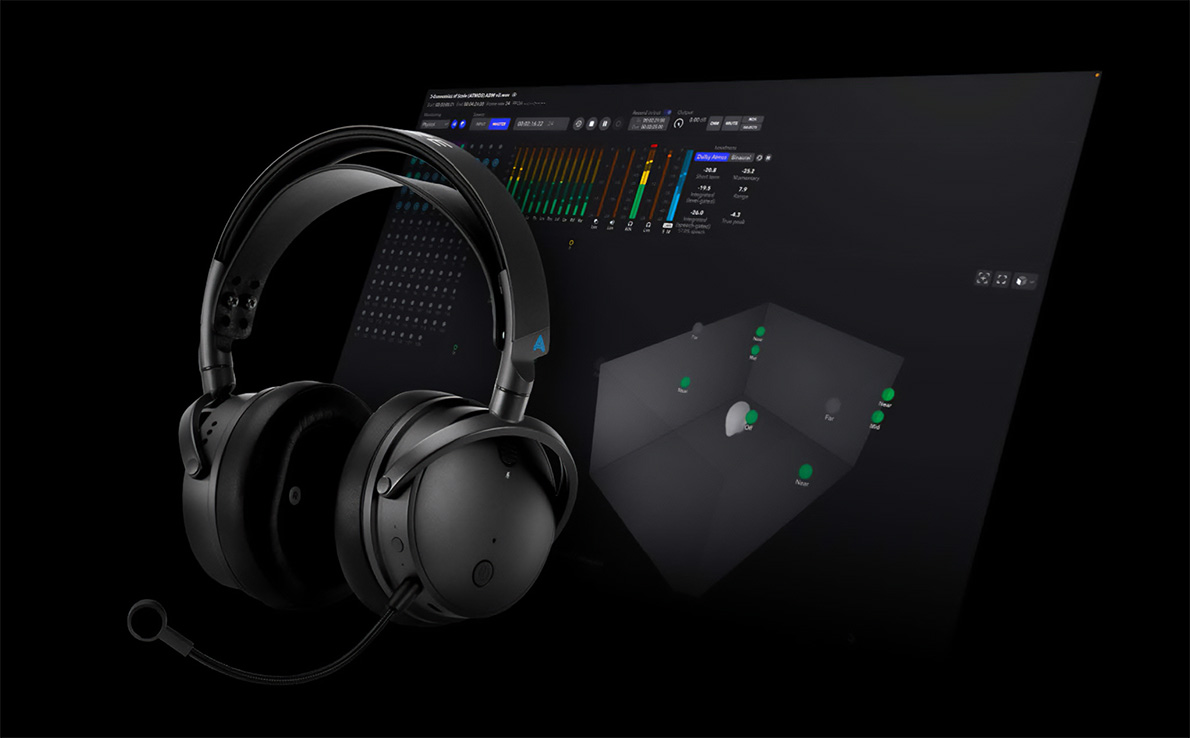 Audeze Maxwell Head-Tracking Support – Press Release
Los Angeles, CA – Oct 25th, 2023. Audeze, a leading premium headphone manufacturer, is proud to announce the beta launch of a significant firmware upgrade to its award-winning Maxwell headset – head tracking support – which will be compatible with the DolbyAtmos® Renderer for professional mixing. Utilizing built-in hardware already included in every Maxwell headset, this integration transforms Maxwell into a powerful tool optimized for
content creators and audio engineers mixing in Dolby Atmos.
"We plan to use the head tracking capabilities of Maxwell for future collaborations, and expect to
foster a growing community of Dolby Atmos creators," said Sankar Thiagasamudram, Audeze CEO and founder.
Audeze Maxwell – Your Studio on the go. Get your own set here

With virtual and remote collaborations growing amongst the creative community, Audeze's enhanced Maxwell headset is suited to meet the needs of this growing field. In parallel, the creativity community is fully embracing Dolby Atmos, making the Maxwell headset a great tool for creatives looking to break free from the traditional constraints of stereo to deliver unparalleled immersion and clarity in their mixes. All users need to do is open up their latest Dolby Atmos session, connect the Dolby Atmos Renderer application, and plug in the USB dongle or USB cable to create and monitor Dolby Atmos mixes with real-time head tracking.
Providing a highly immersive preview of their audio creations. It's your studio on-the-go.
Maxwell's new integration for the Dolby Atmos Renderer will offer a streamlined user experience. Users can create and monitor Dolby Atmos mixes with real-time head tracking, providing a highly immersive preview of their mix. For further information on how to enable head tracking with the Dolby Atmos Renderer on Mac or Windows machines, visit this link.
Head tracking follows the orientation of your head and allows you to interact with the virtual room in real-time when monitoring binaurally with headphones. It creates a more lifelike experience that mimics the studio environment with speakers. This can lead to greater accuracy when placing objects in the three-dimensional space. Additionally, because it approximates the mix room, you may find that you can spend more time comfortably mixing on headphones. Especially for those occasions when you're traveling or otherwise away from the studio.
Dolby Atmos is an innovative audio experience that envelops you in an immersive soundscape. While music mixed in stereo is limited to left and right channels, music mixed in Dolby Atmos is freed from channels. Allowing artists to now place individual sounds all around you. They can also decide the volume, size, and diffusion level of each vocal, guitar, or drum to reveal nuanced details in the music. Artists can now deliver music in Dolby Atmos through several leading streaming services and the most popular devices for streaming music. Including mobile, smart speakers and even auto.

Audeze Maxwell (Xbox)Features
Audeze HQ – 10 band graphic EQ, sidetone toggling, saving/editing presets (coming soon!), the place to easily upgrade the firmware. A great app to perfect your desired sound signature and a must for any competitive gamer out there.
Dolby Atmos – Pre-paid license that can now take advantage of head tracking support for your professional mixes
Brand new chassis – Built with aluminium and steel.
Award-winning – Audeze 90mm planar magnetic drivers
Wired Connection – Absolutely Top Notch with the AUX cable into a controller or via a USB into the PC.
Volume control – Separate controls for the Volume and the Mic which allows for great control of sound mix.
Pre-installed Presets – Easy to toggle through the EQ presets. the Immersive preset is a must try, phenomenal.
80hr+ Battery Life – With Fast Charge for All Day Play in 20 min
Bluetooth 5.3 – Also supports LE Audio, LC3plus, LDAC
Still Interested? Read our own in house review of the Audeze Maxwell here.