The Audeze Maxwell is quite literally a masterpiece. After years of relentless innovation building first class gaming headsets, Audeze has finally released the successor to the Penrose, The Maxwell. This is a serious piece of kit for serious gamers (and us casuals too!). An upgrade to the Penrose in every conceivable way, the Maxwells sound quality, wireless performance & battery life have all been pushed to the limits of possibility. So welcome to our Audeze Maxwell Review! Do they stand up to the hype? Are they the best gaming headset of 2023? In a word and three: Yes, yes they are.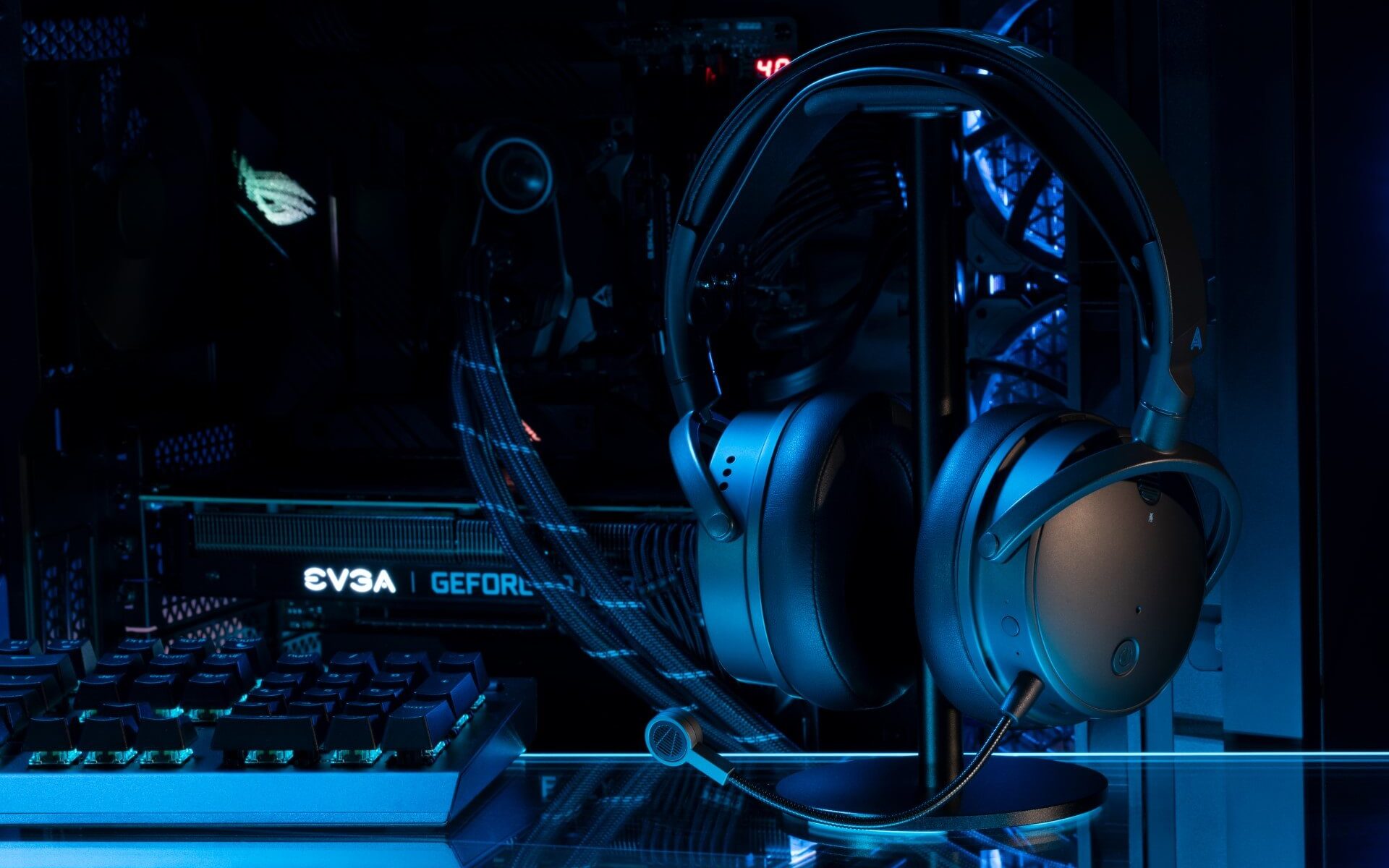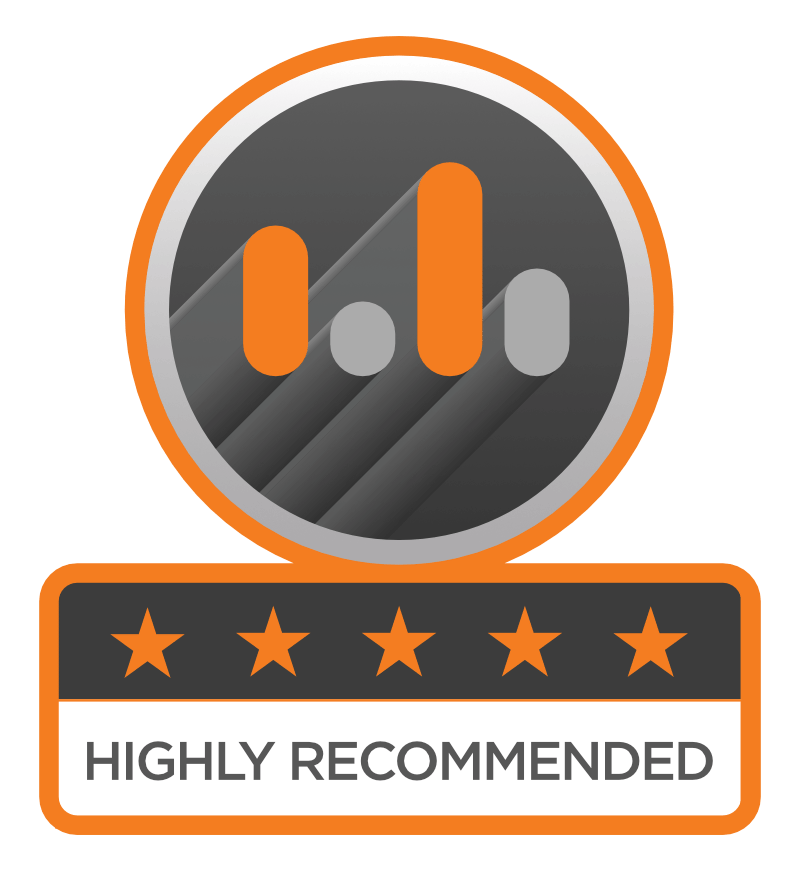 Audeze Maxwell
Review Breakdown
Design

0

Sound Quality

0

Comfort & Fit

0

Wireless Signal

0

Mic

0
The sound from these headphones for gaming is beyond phenomenal
Sound Quality: 12/10
Sound is subjective, but the sound from these headphones for gaming is nothing short of phenomenal. The detail is outrageous. The soundstage and direction are astonishing, simply beyond description. They work so well with spatial audio programs (such as Tempest) to deliver an immersive sound that you can now not live without. With the Audeze HQ app, you can create custom presets (coming soon!) and create sound profiles for specific games. The pre-installed presets offer a great variety of tuning and are easy to change with a few clicks and swishes on the volume wheel. This is the best sound from a gaming headset that I have ever heard. I am not sure if it can be topped.
Design: 10/10
The Audeze Maxwell gaming headset design is an upgrade to the Penrose in every conceivable way. It has a perfect balance of a simple, sleek looking headset with an air of quality that is captivating, but not ostentatious in the slightest. The smokey grey / black colour palette provides a subtlety that this is stylish and the small Audeze logo above the ear cups reminds you just how lucky you are that Audeze make gaming headsets. Finally, the earpads look almost fluffy and robust at the same time, you just want to squeeze them.
The longest I have used them in a one-er was 8 hours and I could have really worn them for 8 more.
Comfort: 9.5/10
Another subjective topic but these headphones fit great. Despite the weight (450-500 grams) they are extremely comfortable. The new headband design really spreads the weight out and they do not feel as heavy as they objectively are. After adjusting the strap by one notch, they sit on my head in between tight/ loose, Maybe I got lucky but I felt like Goldilocks when I put them back on my head.
The earpads are extremely comfortable and they fit my big ears fine. I could really wear them all day. They lose half a point because sometimes my ears can get a bit too heated (I am not sure if this is really a result of the earpads getting a bit stuffy or a result of the total immersion making me sweat more). A bit more testing is required here ;). The longest I have used them in a one-er was 8 hours and I could have really worn them for 8 more. They are also very flexible and rest perfect around your neck due to the swivel on the cups.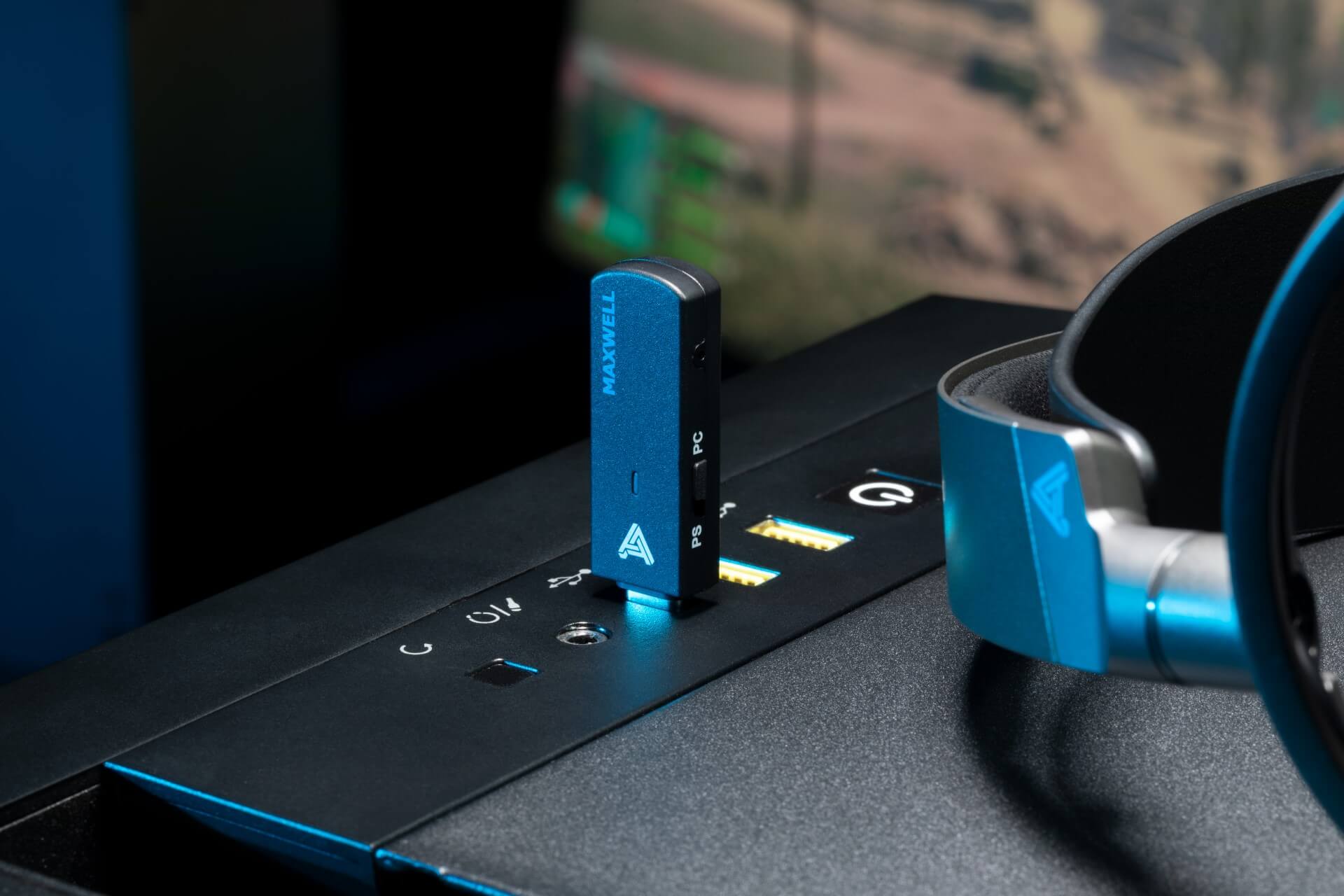 Wireless Signal: 10/10
People used to complain about the poor range of the wireless signal for the Penrose. Let's just say the Maxwell has eliminated any lingering issues here. If my eyes were good enough, I am pretty sure I could play my Playstation from my neighbours house and the sound would still be lossless. The connection is 100% stable via dongle or bluetooth. With capabilities for Bluetooth 5.3 as well as LE Audio, LC3plus, LDAC codecs, it all but guarantees these headphones are going to be viable for years to come.
Mic: 10/10
The boom mic is fantastic and the AI noise suppression tech is beyond incredible. People can always hear me clearly and for in-game chat it is perfect. The mic is in fact so good, I have started using the headset to answer calls at work. You can turn the sidetone on or off, as well as having 3 settings for the AI filter system (low, high or off).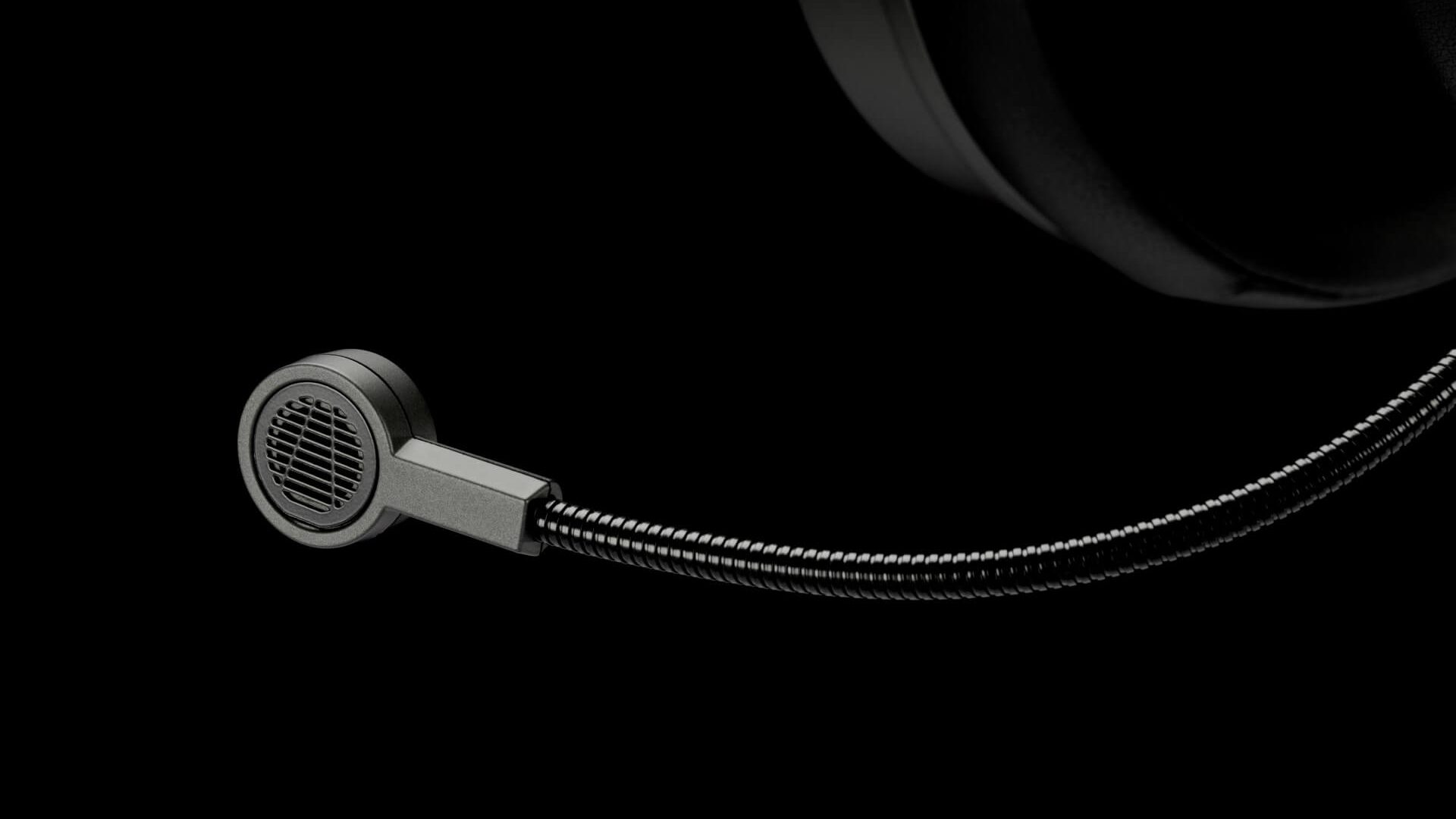 Let's Talk about the Sound
The Soundstage of the Maxwell is absolutely fantastic. Simply put you have to try them out to understand. Playing Apex legends, I can perfectly pin point where the bullets are coming from and work out if the players footsteps are above or below me. With Tempest audio on, you even get a sense of perception of just how far (or near) they are to you. I am pretty sure I can now work out what character I am chasing/ be chased by just from the footsteps! Those sweaty Wraiths now stand no chance against me (Huwah ah ah). It is like having a second controller but not only that, a second controller which brings you directly into the world you are playing.
Away from competitive gaming and into the wonderful world (and surroundings) of Hogwarts, my mind was shattered into pieces. I do not normally play single player games with a headset. But naturally I had to give it a go with the Maxwell. The music from the 4 different vivariums was literally flowing through me. When I turned my character in a different direction in a dungeon and heard something behind me, I had the urge to look behind me IRL. In two words: Absolutely captivating.
The bass is boomy when it needs to be and the sub-bass is colossal. Gunshots, explosions & footsteps are more realistic than ever before. There are actual textural details that can be heard (and felt!) with said impacts, explosions and things such as your character interacting with inanimate objects.
The scurrying of the spiders around the next upcoming corner literally sent shivers up my spine. Flying my Night Dancer Broom under moonlight with the Maxwells on allowed for a sense of immersion I never experienced in my living room before. The wind was blowing my hair, the 360 degree-ness of what you can hear and just how every detail can be heard as well as felt, made a fantasy game about witches and wizards into a quasi hyper-realistic experience.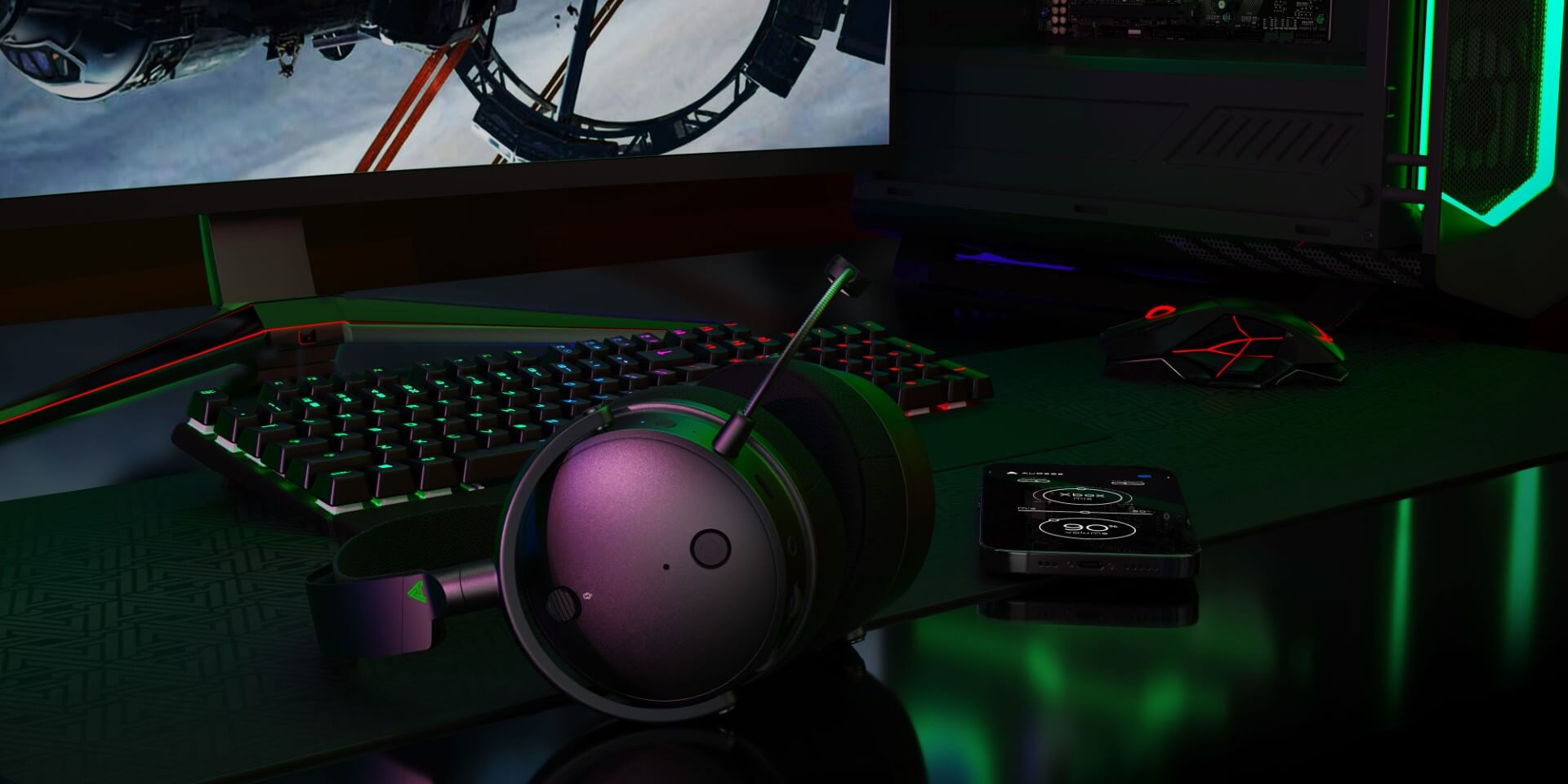 In not so emotional terms:
The Audeze Maxwell has great width, but its height and depth is where it truly shines. It is really rare for a wireless headphone to have such good imaging as well as such a massive dynamic soundstage. This also means that these headphones are not just for games. They are suitable for listening to music too and I highly recommend it!
Presets and my love of the V shape sound for gaming
I have used the Maxwell nearly exclusively with the "immersive" preset. Which essentially EQ's it into a "V" shape. For myself and others who are not really Audiophiles, this means the immersive preset for the Audeze Maxwell has an amplified low end, a toned down mid range, and an amplified high end. This tuning works very well for games and with the Audeze Maxwell this essentially means that sound effects are more vivid and memorable. These sound effects get clear detail from the treble boost and a roar of energy from the boosted lows. In-game actions such as swapping guns, reloading, jumping, opening and closing doors, sheathing or unsheathing your sword (or wand!) have a satisfying crispness that I never knew existed. These are the perfect gaming headphones for me, I have peaked.
Other Features at a Glance:
Audeze HQ – 10 band graphic EQ, sidetone toggling, saving/editing presets (coming soon!), the place to easily upgrade the firmware. A great app to perfect your desired sound signature and a must for any competitive gamer out there.
Brand new chassis – Built with aluminium and steel.
Award-winning – Audeze 90mm planar magnetic drivers
Wired Connection – Absolutely Top Notch with the AUX cable into a controller or via a USB into the PC.
Volume control – Separate controls for the Volume and the Mic which allows for great control of sound mix.
Pre-installed Presets – Easy to toggle through the EQ presets. the Immersive preset is a must try, phenomenal.
80hr+ Battery Life – With Fast Charge for All Day Play in 20 min
Bluetooth 5.3 – Also supports LE Audio, LC3plus, LDAC
AUDEZE MAXWELL: MY VERDICT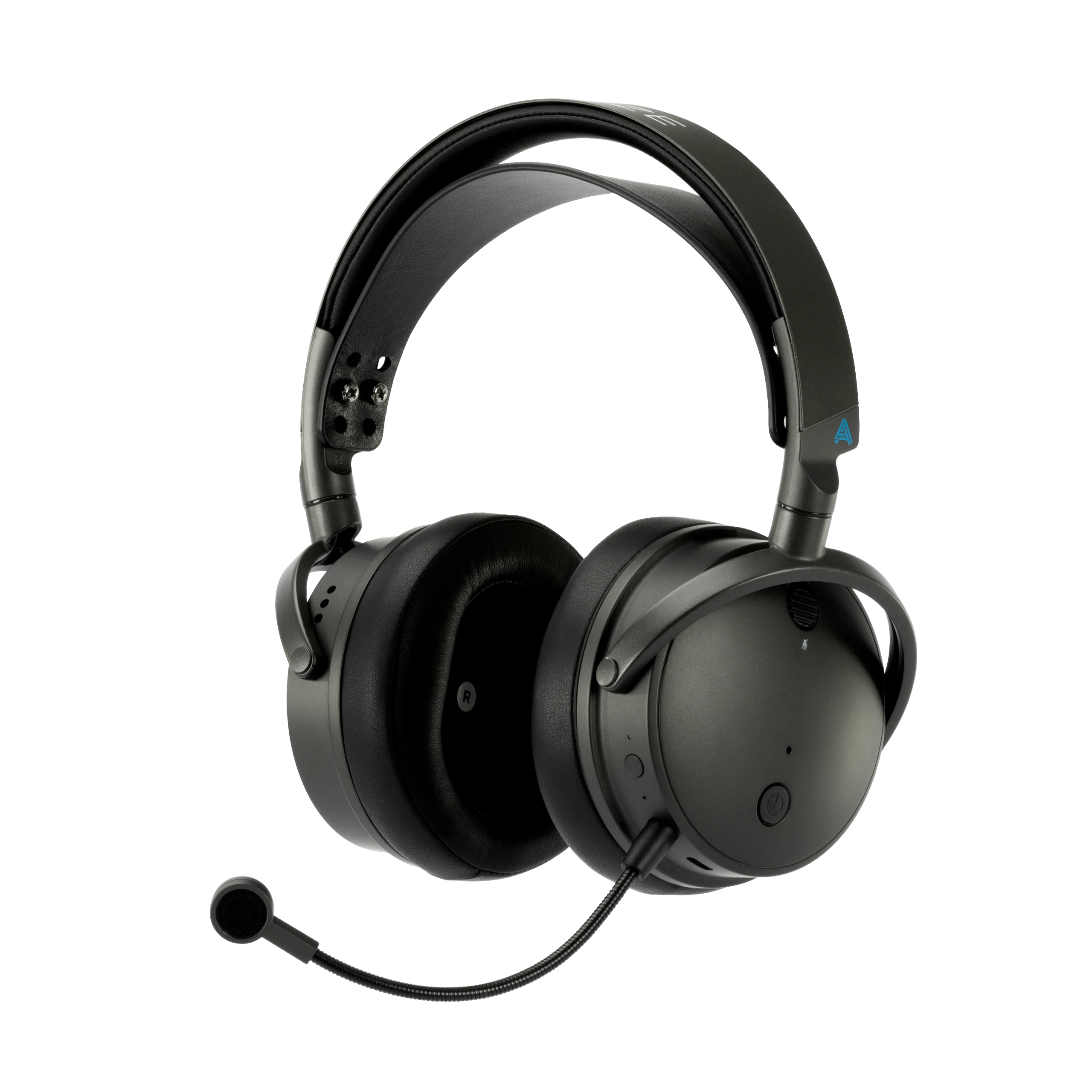 The
Audeze Maxwell
is a revelation. The battery life is superb. The imaging is vivid and the soundstage is incredible. The wireless connections are solid and the microphone clarity is just one of the many cherries on top. The AI noise filtration system has its uses too. You really can wear these for hours at a time and you will always get a genuine, immersive gaming experience from them. I cannot wait to get my hands dirty with custom EQ's and discover what more the Maxwell can offer.
This is the best wireless gaming headset on the market today and is so versatile it has uses beyond the Playstation/Xbox.
Value for money? 100%.
See you in the next arena!  
See more reviews and news about Audeze products here!