Audeze have set out to create the ultimate wireless gaming headset, but do the Penrose hit the mark of fall short?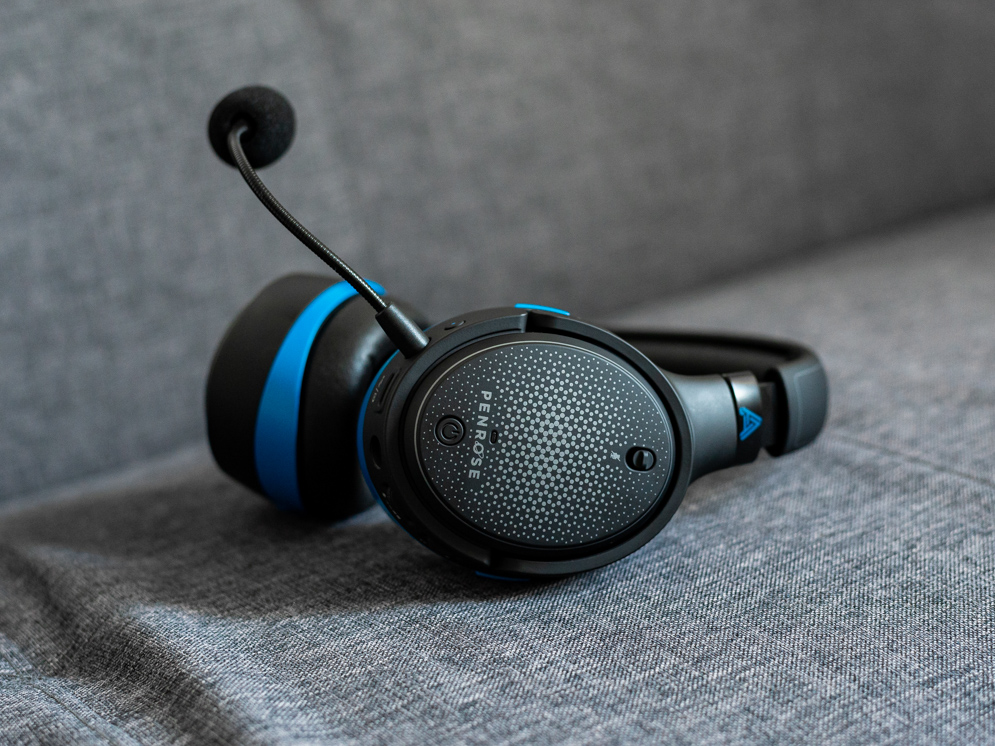 PROS
Comfortable
Great feature set
Clear sound quality
Dedicated app
CONS
Microphone quality over wireless could be better
Not all features available yet on PC/PS5
Review Breakdown
Sound Quality

0

Battery Life

0

Comfort

0

Wireless Signal Range

0
Fit and Comfort
First off the Penrose fit securely on your head, albeit with slightly high clamping force. Luckily you can leave the Penrose stretched out over some books to help loosen the clamp if you find it too much. The earpads are big enough for most ears, and the headband is well padded.
Comfort overall is good with no issues after a couple of hours, due to their closed back design I would still recommend taking a break every couple of hours to let your ears breathe. But overall the Penrose are a very comfortable headset.
Features
There are 2 versions of the Penrose, the Penrose and Penrose X. Both versions work fine with PC, but for console use the Penrose is suitable for the PlayStation 4 and 5, whereas the Penrose X has official Microsoft Certification for use with the xBox One and Series X.
They can be use in wired mode with an aux cable, via Bluetooth or via 2.4GHz wireless in conjunction with the included USB dongle. 2.4GHz will likely be the most used configuration, and you can expect around 14hrs of battery life from the headset. There is a high quality microphone that is detachable, there is a scroll wheel for the microphone volume and on the Penrose X if you press and scroll you can change the game/chat mix. The game/chat mix is currently only functional on the xBox – but future firmware updates should hopefully bring this feature to PC and PlayStation versions.
The firmware can be updated quite easily, but at the moment only via a Windows PC. There is a mute switch on the left earcup, along with a volume wheel and source select button. There is an Audeze HQ app for Windows and Android, with MacOS and iOS versions in the works. In the app you can set various EQ presets and in the future thegame/chat mix should be functional too. You can even have the Penrose connected to the source via 2.4GHz whilst also connected to your phone via bluetooth and change settings that way which is handy. In theory you can also use them as a bluetooth headset whilst connected via 2.4GHz, but bluetooth bandwidth is more restricted and the microphone quality will suffer so you're better off using the in-game chat or background app chat instead of bluetooth.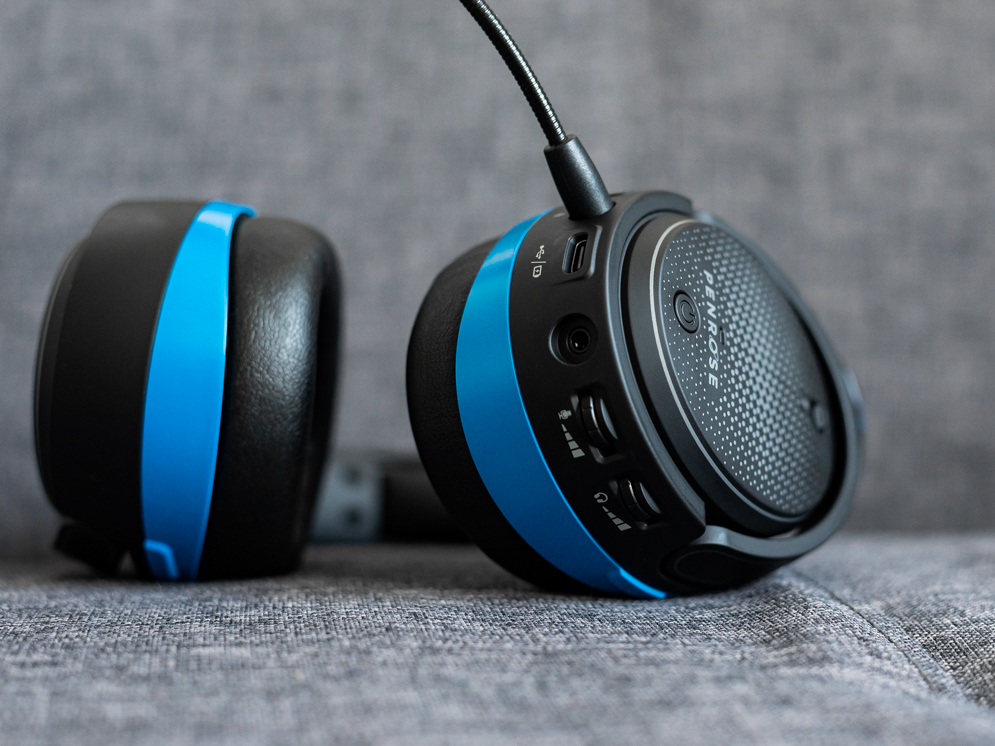 Sound
Once set up the Penrose really are an impressive headset – first off, the microphone, whilst not crystal clear (bandwidth issues) does a good job of picking up your voice and your teammates will be able to hear you without issue. Next up is the immersion, on the latest generation of consoles there is some excellent audio processing that give you "surround" like sound from regular 2ch headphones like the Penrose. The same can be said for certain PC games, going in to the audio settings and selecting the correct output really does wonders. This bring us to the hardware side of things where those planar drivers come in to play, giving you excellent bass depth and impact without taking away the clarity overall.
Depending on the game you will get subtle rumbles to full blown explosions, all delivered with excellent control and clarity whilst also packing a punch. These drivers can push some air without ever sounding muddy or overwhelming. In-game dialog comes across clean and clear, speech is well rendered and this greatly helps if you use them as a headset, hearing your teammates is vital. The treble is precise and clear without being emphasised or piercing, these are designed for long sessions and thus have an utterly fatigue free sound.
The closed back nature of the Penrose means they block out a fair amount of outside noise, allowing you to immerse yourself, whatever is happening around you. The in-game effects are incredible though and the Penrose really do a stellar job at pinpointing spatial sounds, from footsteps to gunshots you know exactly where you stand in the game. This could prove to be a handy avantage if used in a VR system, but sadly I don't have the equipment to test this. For long PC gaming sessions the Penrose have proved themselves a worthy companion, helping me pinpoint enemies with ease.
The Penrose do music playback well too, having quite a well balanced sound that is clean, detailed but with a slightly full bodied nature. They have good depth for a closed back headphone, and great instrument separation. The bass is full yet articulate and well controlled, the midrange manages to be well separated and clean whilst not being pushed forward. The treble is detailed and well extended but never harsh or fatiguing, there are not sharp peaks to create a false sense of air or detail retrieval.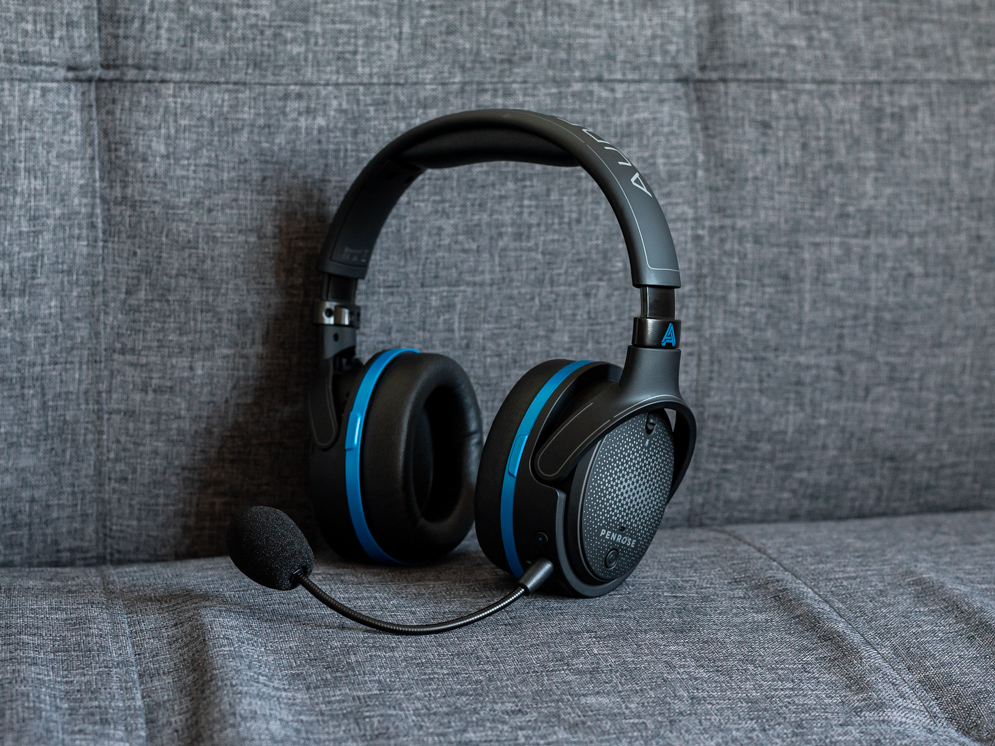 Conclusion
The Penrose are still being improved with firmware updates, so expect them to get even better with time, but as they stand they are still an excellent gaming headset if you value sound quality. They have a clean and crisp sound, that is also full and well extended. They have clearly prioritised sound quality over microphone quality when used in wireless mode, which to me is the right way to do it if bandwidth is limited. Overall the gaming experience is superb though, with excellent spatial accuracy and immersion, match that with good comfort and you have all the key features of a great gaming headset – that also do a great job for music listening.