WFH Headphones, Earphones, Speakers and more
People deciding to work from home is on the rise – and why not? There are lots of perks to be had when working from home, and along with being able to stay in your PJ's – you can listen to music all day without disturbing the office. Here's our pick of some the best audio tech that every home office could benefit from.
Lypertek PurePlay Z3
There are many reasons why the Lypertek PurePlay Z3 is a solid favourite for true wireless earbuds under £100, and many of the PurePlay Z3's features are well suited for use in your home office. The 70 hour battery life means they're unlikely to die during an important call, and the microphone quality is impressive. The PurePlay Z3 is IPX7 waterproof rated, so they'll survive if you spill your morning coffee on them and you can give them a full wash if needed – you can even take them into the shower with you! Most importantly, they sound superb with people even describing them as audiophile worthy – so they must be good!
B&W PX7
For the ultimate package, then the B&W PX7 is a complete solution for your audio and isolation needs. These full sized, noise cancelling Bluetooth headphones will give you freedom from wires, able to connect wirelessly to devices supporting Bluetooth. Being B&W, you can expect the sound quality to be up there with the best. The PX7 is energetic and clear, with deep and well controlled bass and a great sense of space. Then the features give you 30 hours of listening, Bluetooth 5, AAC, aptX and aptX-HD codecs and B&W's leading noise cancelling technology for uninterrupted listening.
JDS Element II
If it's a desktop option you need, then the JDS Labs Element II will not only bring an audio upgrade – it will look great too. Beautifully designed with a simple yet striking look – the Element II headphone amplifier and DAC will fit into any setup. Historically, JDS Labs has been known for their functional design and great sound – now with the Element II, they have shown that they can make great looking equipment too.
Flare Isolate 2
There will be some of you out there that prefer complete silence when working from home – don't worry, we have you covered. Flare are leading the way when it comes to hearing protection, and their newest model – the Isolate 2 – is going to be the one we recommend. These are made of aluminium and not only do they do a great job of blocking out unwanted noise – they look stunning too. The Isolate 2 is CE certified and has a high sound protection rating of SNR32, so you can be confident they'll do a good job.
Campfire Audio Cascade
If you're not ready to ditch the wires, and you want to listen comfortably with maximum isolation, the Campfire Audio Cascade closed back headphones will do just that. The Cascade is extremely comfortable, which is ideal for wearing for long periods of time while getting your work done. These are closed back headphones, so they will also do a great job of blocking out external noise – allowing you to enjoy your music in peace. Then the sound is what you'd expect from Campfire Audio – engaging, punchy and very enjoyable. The Cascade uses filters which can be changed to suit your taste in sound – allowing you to customise your listening.
Audeze LCD-GX
Those of you who want the very best headphones that can double up as communication headsets may be interested in the Audeze LCD-GX. This is a high end gaming headphone aimed at audiophiles. The attachable microphone will give you superb voice quality and can be used for those all important business calls. Then, when you're done with work – fire up your favourite game and enjoy the real to life spatial awareness and clarity provided by these all purpose open backed cans.
Final E500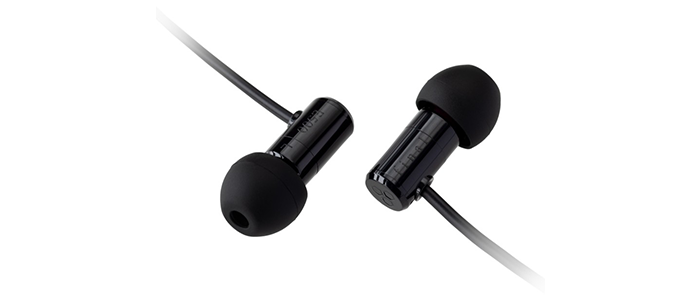 The Final E500 is the ideal earphone for those wanting to upgrade from the ones supplied from your device – without breaking the bank. At £20, these are the best value performers we've come across. Sound quality is the E500's main focus, and their level of detail, separation and imaging challenges models twice the price and more. The earphones themselves are small so they are very comfortable, and the supplied Final eartips will ensure you get a good seal which really helps isolation – blocking out background noise to help you focus.
B&W PI3
If you want some wireless earphones, and true wireless doesn't appeal to you – then B&W has you covered with the PI3. These hybrid dual driver wireless earphones use a neckband design, and come with all of the latest features including Bluetooth 5, AAC, aptX and aptX-HD codecs, 8 hours of playtime, and very impressive microphone call quality – perfect for those video conferences. The dual hybrid driver setup means you get a 9.2mm dynamic driver and a balanced armature driver inside each housing. This driver combination delivers sound that's packed with detail and space – with an almost 3D quality.
Kanto YU4
While you're going to be at home a lot more, you may want to improve your audio setup. The Kanto YU4 is an ideal speaker for desktop use. They are powered speakers, so don't require a separate amplifier, and they have Bluetooth functionality – so you can connect them to other Bluetooth devices wirelessly. Their compact and stylish design means they'll fit into most setups and their sound will really impress you. They pack a lot of punch for their size, and deliver a tight and detailed sound. A great all-rounder for those days working from home, and to enjoy once the work is done.
Shanling UP2
Want to go wireless but are not ready to stop using your favourite wired headphones? Fear not. The Shanling UP2 is a Bluetooth headphone amplifier and DAC, meaning that you can plug your headphones in and then connect wirelessly to your Bluetooth compatible device. This is perfect for use with PC's, laptops, tablets and mobile phones. The UP2 also has a built in microphone, so you can take calls even if your headphones do not have a built in mic. Fully charged you can expect up to 11 hours of playback and the UP2 will support all popular audio codecs including LDAC, aptX, aptX-HD and AAC.