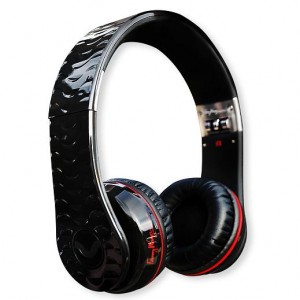 The Fanny Wang Headphone Company are the latest fashion brand to stake a claim for superb audio experience as well as cool contemporary urban looks. At this point you are probably either re-reading the product name in case you misread it or giggling to yourself heartily. This is a brand that is having fun, not taking itself too seriously and inviting everyone to join in, hence the slightly rude sounding name.
Who is Fanny Wang?
Fanny Wang is an imaginary eastern lady who wants everybody to enjoy her headphones. The brand is being fronted by attractive young women (the Fanny Wang Girlz) who seem to have been very well trained in demonstrating the headphones, seen at January's CES Show, talking to the public about what to expect from a headphone.
If you think they look a bit familiar, that's because they are! Fanny Wang is the brainchild of Tim Hickman and David Adam, who after making some of the best known iPhone cases and accessories around with their Hard Candy brand, decided to research what the public at large wanted from audio accessories. After looking at the ultra successful Monster Beats by Dre range, they thought that although Monster had made headway in opening up better sounds to the mass market, they had also got some important details really wrong.
For the On-Ear Wang (yes that is what their first headphone is called!) they consulted the original Engineer and Sound designer behind the Monster Beats and asked him to come up with a sound that was more natural, neutral and better suited to the serious music fanatic. Before audiophiles scoff at this idea, the titanium drivers found inside the On-Ear Wangs is inspired by the Denon AH-D2000! This I think was aimed at fixing the most common critique of the Monster Beats – For most they are simply too bass heavy and therefore struggle with Rock, Classical and Jazz.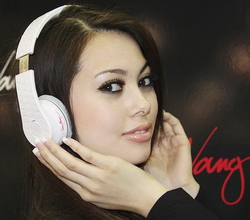 For their design they took their cue from the Beats and attempted a sturdier more comfortable frame with a fun finish similar to the popular designs of their iPhone, iPod and Mac accessories. Another factor that is generally backed up by the popular opinions of Audio enthusiasts was that the main thrust of the Monster Beats marketing is a little misleading.  Slogans like "… hear music how artists intend you to – like you're in a studio" and "People are not hearing all of the music" are a very bold claim for bass heavy noise cancellers especially when actual studio headphones can be bought at half the price. The Fanny Wang Brand is attempting a less bombastic and more fun approach with another crucial difference – price! The aim seems to be realistic sound at a realistic price.
Sound
There is an obvious attempt to bridge the gap between the fashion headphone market and the audiophile serious listener, it seems like this balance is achieved quite well. I cannot see the on-ear Wang joining the Grado SR-325is or the Ultrasone Edition 8 as an audiophile classic but I have to admit, as a less than serious audio manufacturer, they have made a great sounding headphone! Bass is present but not dominating, the mids are clean and clear and there is also plenty of detail with an impressive sound stage for a closed back headphone. Complex stereo imaging does not seem to bother them too much and these easy to drive on ears have a comfy warm feel which is not tiring at all. The audio is provided by custom paired 40mm titanium drivers and the On-Ear Wangs are supplied with a "Custom high-fashion dust bag" don't you know.
Duo Jack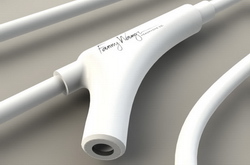 Taking social media to the next level, apparently. Fanny Wang's Duo Jack (patent pending) means a friend can "Jack in" sharing music through this interesting 3.5mm output addition to the cable. The Duo Jack comes standard with every set of Fanny Wang On-Ear Headphones.
Tri Fold Design
Perfect for travelling the sturdy tri-fold design makes Fanny Wang headphones easy fit into a bag. Although on-ear, they are still a decent size so this is a welcome feature.
Rock Your Wangs?
With a controversial start, bumping legal heads with Monster Beats, this brand may at first seem like a copy of an existing idea – the trouble with that assessment is, when compared, the On-Ear Wang feels a bit more substantial, has comfort improvements and most importantly sounds considerably better. The pricey fashion headphone may be Monster Cables creation but being first to market is not normally a guarantee of quality. As most musicians know the first take is not always the best – sometimes you have to relax and have a bit of fun before the real magic happens. One thing is certain though, fashion headphones are growing up and they want to be taken seriously – but not too seriously.
More Information
For more information on Fanny Wangs range please visit the HiFi Headphones store.