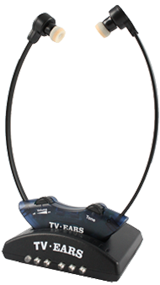 When one person in the household is hard of hearing it can be difficult to reach a compromise over the volume level when watching TV.  It's a common problem and TV Ears headphones provide the solution.
While using TV Ears headphones, the television volume can be lowered or muted without affecting the volume of the sound through the TV Ears headphones.
"TV ears has made a such a big difference in my life. I now watch TV and films and hear every word better than with my expensive hearing aids."

– Mr J Barrett
Why TV Ears?
With TV Ears headphones you can set your own volume and tone controls while others can listen at a comfortable level, or even not at all (with the TV speakers muted).
TV Ears headphones are tuned specifically to enhance speech, which makes then perfect for helping you understand dialogue in films and TV shows.
About The TV Ears Headset
The lightweight (1.6 oz/46 grams) ergonomically designed wireless headset rests under the chin providing maximum comfort. It won't mess your hair or get hot on your head. Resting under your chin makes the volume and tone controls convenient and easy to adjust. With an output power of 120 decibels, TV Ears headphones are strong enough for people with hearing loss. The TV Ears transmitter easily attaches to your television, satellite, or cable box and the base unit can charge up to two headsets at one time.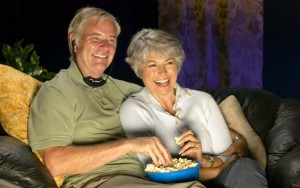 The TV Ears 2.3 system works with Plasma and LCD flat screen TVs and in the presence of fluorescent lighting. This system can cover up to 600 sq. ft. TV Ears headsets feature the patented Comply™ Foam TV Ears Tips. TV Ears Tips provide an acoustically sealed chamber with the ear that reduces room noise and provides unparalleled comfort, cleanliness, and clarity for outstanding word discrimination so that television dialogue is clear and understandable.
More Information
To buy TV Ears Headphones or to browse our range of TV headphones please visit the HiFi Headphones store.