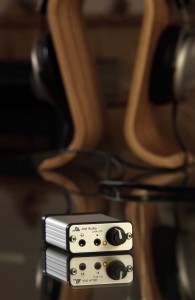 Just Audio specialise in creating smaller scale audio products that enable an uncoloured, natural and precise listening experience. Their initial product offerings consist of a compact battery powered class A headphone amplifier and a smaller pocket sized class AB headphone amplifier. There is also a range of Studio quality interconnects to suit different configurations.
Who are Just Audio?
Just Audio is the brain child of Justin Harris, an experienced electronics/embedded software engineer with a love of Music and Hi Fi, whom previously has worked professionally in the mobile/wireless devices product creation domain. His passion is infectious, he obviously relishes the chance to talk about his ideas, electronics in general and getting the very best out of Hi Fi gear. Justin has worked for some of the mobile phone manufacturing giants, you may even have some kit he was involved in already.
"This all started with designing some functionality to incorporate into my modified Quad 405 power amplifiers, to enable standby and best in class audio detection and wake-up functionality, with the intention to make this in such a way that it could be retro-fitted without making a mess of the existing internals. "
It was a desire to get the very best of his own Hi Fi kit which lead to the ground up designs for the uHA-120 and now it's Class A big brother the AHA-120.
In 2009 he decided to start his own company. "The main theme originally was modularity and utilisation of surface mount technology to enable making the modules small enough to fit in tight spaces. I wanted to make operation seem natural and intuitive to the end-user and perform better than other implementations that I'd experienced myself."
Having such a strong engineering background seems to have provided Justin with an understanding that  individuality, through modularity and customisation, will develop products with the end user always in mind. It can take a long time to find the bit of kit which has all the required abilities and compliments existing headphones or source. By understanding the wants and needs of the enthusiast he hopes to be able to bridge these difficult gaps for customers whilst keeping an eye on the shifting sands of the audiophile landscape.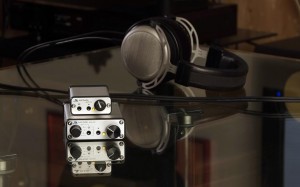 "By early 2010 We had started to think along the lines of making a complete product that could be tested to the relevant standards. We had already built up a library of components and a capability to produce electronics modules. I'd been studying on various audio amplifier topologies and experimenting with my own Hi-Fi system at home, attaining both measurable and perceivable improvements. I'd also been looking at headphone amplification projects and products out of passing interest for some time and had already built my own headphone amp for use when I was working at the office. The idea occurred too me, why not use the technological advances to make a pocket sized headphone amplifier more akin to the standard one would expect from a respectable desktop amplifier. Of course, the idea of creating a pocket sized amp isn't new, but we noticed that everyone in this market seemed to be just using an operational amplifier or some form of dedicated amplifier IC combination. Coming more from a Hi-Fi power amplifier interest area, we felt that using a commercial IC would never provide the same level of audio quality as a carefully crafted discrete circuit, so I set about building some prototypes of more discrete topologies usually found in larger power amplifiers. A few months later we had determined most of the system level components (battery, charging, connectors, volume control pot), along with a hybrid class AB topology that we had built in enough flexibility to fine tune and provide what I felt is a more High Fidelity sound, yet able to operate from a low voltage power source."
With a direction that many enthusiasts will recognise Justin is still committed to customisation and the minor adjustments that provide the best possible performance. So far he has carried out many mods working closely with customers requirements. Several such projects have seen him build a range of Studio quality cabling and adding mods to hardware which have helped  him shape the future direction of the Just Audio range and additional services. More about Justin's big plans for the future of Just Audio and functionality upgrades (which will be available for existing Just Audio amp owners too) later on.
AHA-120 Put To The Test
Having a Pair of  the truly excellent Beyerdynamic 600ohm Tesla T1 Headphones at my disposal, Justin suggested he send me the Just Audio Class A AHA-120 to test. Quite a few manufacturers have products in this small niche market, some fail to deliver improved sound quality or improved player usability with hard to power headphones, Justin expects the AHA-120 will be a great match to the T1's. I have been using the excellent iBasso D10 with headphones regularly and also other acclaimed portable amps for some time now, this will be the first proper portable test with the Beyer T1's.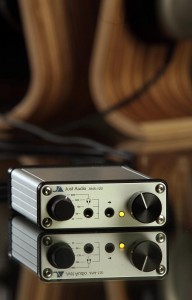 Many audiophiles believe that class A gives the best sound quality with its absence of crossover distortion and reduced harmonic distortion. Class A amplifiers are typically more linear and less complex than other types, but they are very inefficient. This type of amplifier is perfect though for driving sensitive low distortion headphones where the listener wants the very best audio quality, without the massive electricity bill potential of a full sized class A HiFi system at home! Operating in class A means that the amplifier is always passing current through upper and lower sections of the electronics even when there is no signal, negating any artifacts as a result of the transistors turning off and back on again during the amplification process. The Amp arrives in it's plain box  – usually an exciting sign. Inside the box there is bubble wrapped AHA-120, a mini usb cable and four self adhesive stick on feet. Inside the bubble wrap bag with the amp is a silica gel sachet, included to prevent any moisture in the air from condensing and damaging the product. Removing the amp from the bubble wrap bag it becomes clear that extruded aluminium case is flawless with a soft anodised finish, and ultra fine print on both the front and rear panels. The company logo on the front panel is in colour and the serial number on the rear panel is engraved, which is a nice touch. The version I have is a product sample and is already burned in.
I can't resist turning the large volume knob, switching the unit on revealing two things – a warm Amber glow from the LED and the silky smoothness with which the volume turns. The Aluminium case with soft anodised finish is solid and picking it up the unit weighs neither more nor less than expected – it is a little large though compared to most portable amps (26mm x 80mm x126mm, the uHA-120 is much smaller – 23mm x 52mm x 85mm) but still has a very small footprint when used as a desktop amp. Print work is detailed is flawless with all controls well labelled, panel fixings appear to be stainless steel. At the front, right to left, you have the chunky volume knob with accompanying Amber on/off LED, next the 3.5mm output then the input and finally a five-way selector nob for impedance matching your headphones. This feature is probably more accurately described as class A biasing level, most users would like to match current setting to  their headphones, this is simplified by just providing a selector for selecting the amount of bias needed to maintain class A operation for a given headphone impedance. Without this feature the battery would apparently only last around 18 hours whereas now you can get up to 60 hours of battery operation when driving 600 ohm headphones. Round the back there is an engraved serial number, USB charging socket and red to Green Charge LED and two small charging operation switches for charging management with other USB devices. The AHA-120 contains a Vishay P11 potentiometer mounted on a solid ground plain PCB, low ESR Capacitors, Burr Brown Opamp to provide a FET input stage and Alps switches. The flat front panel sockets feel rather nice and connection seems very solid and reliable with a very positive feel to the connection.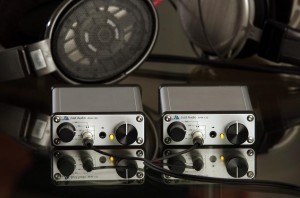 The first device I connect to the AHA-120 is my iPod touch via an iBasso CB07 pure Oxy sealed LOD cable, I plug in the Beyer T1's and turn the five-way switch to 600. Firing up the first lossless track, Radiohead – Pyramid Song, I am instantly impressed with the balance of weight and air, there is an instant feeling of synergy between amp and headphones.  As the song unfolds I find myself closing my eyes and feeling my way around the stereo image. There is real texture to the sound which is vivid, heavy and fluid – detail is is apparent but subtle giving structure and very accurate movement to each instrument. The piano in this track is distractingly pretty and I am already excited to try plenty of other favourite music. There is a ton of headroom and I never get the white marker on the volume control much past 12 o' clock.The iPod touch is surprisingly charged twice in two days before the amps lithium polymer battery runs flat, which I had not expected at all. It isn't the best I've heard from the T1's, but the iPod is the most likely culprit and I will put that to the test next. After a decent couple of hours with this initial setup I connect the AHA-120 to the analogue outs on a broadcast quality sound card (running .WAVs from a Mac Book Pro) and revisit the first track I heard. Within seconds I'm glaring at my iPod and shaking my head in disappointment as if it had just kicked a football through my kitchen window. This shows the pairing has real merit, as inferior sources are often shown up by a great headphone/amp combination. The sound is more lush with even more realistic texture and structure, solid and powerful but lighter, quicker. I run through a few classical favourites (this is, to date, the best I have heard Prokofiev's Piano Concerto No2) and the first bad thing I think is when I realise that I have to give the amp back. It follows me everywhere with the iPod touch, great results with Ultrasone Pro 900, Beyer DT770 and DT880, Sennheiser HD650 and HD600 and fantastic in 32ohm mode with my Grado 325is, until sadly it has to go back. Just Audio have a balanced configuration ,using two AHA-120, which includes either balanced XLR or Jack output into the amps and a HD650 balanced cable. Justin expects Beyer T1 and Sennheiser HD800 users will be interested in a cable mod or replacement cable to use this configuration too.
The AHA-120 is very accurate but has a lush warmth which adds to its very real sound. It seemed to encourage the already super clean Beyer T1's to find convincing sculptural depth in some quite difficult recordings. As promised Just Audio seem to have built a portable Class A which can contribute the power and finesse needed for high impedance, flagship model headphones.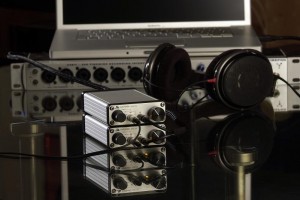 Future Just Audio Projects
Just Audio have some exciting projects under way. They are currently designing a very forward thinking DAC which may be modular, new Balanced operation cables are available now with more cable variants to come and Balanced amps may eventually appear. Due to customer demand some iPod modifications may be added to their service repertoire and customisation of Just Audio amps will continue to be carried out for the best possible operation with specific headphones. Thanks to Justin for talking to me, the loan of the AHA-120 and for the use of the Photos.
Just Audio at Head-fi Meet
Just Audio will be attending the London Head-fi meet where you can try the AHA-120 and uHA-120 for yourself and pick Justin's brain about his approach to Audio Design. He will be there with another of our favourite HiFi people, Mark Dolbear who will have the latest HiFiMan HE-5LE and HE-6 and Schiit Audio amps on display and for you to try.
More Information
More information on the full range of Just Audio Products can be found here.