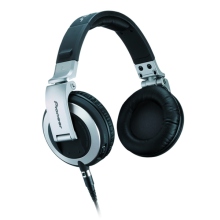 Pioneers current range of DJ headphones is crowned by the fantastic HDJ-2000, which are without doubt one of the nicest DJ headphones around at the moment. The range caters for everyone from bedroom heroes right up to the Professional gigging DJ.
DJ headphones are often used for a wide variety of tasks and have to satisfy a tough set of criteria, this makes creating the perfect DJ headphone quite difficult.
Essential Features
DJ Headphones need to have the option of a 6.3mm or ¼" jack plug (this can be a screw on adaptor) as this is what you will find at the headphone output of a mixer and other Pro Audio devices.
Closed back headphones keep other noises out and your noise in. DJ Headphones should isolate you from background noise, this helps with cueing up the next track or getting that clever new mix perfect. It also means you can use the same headphones for studio performance or if you make your own music or remix other peoples work they will help here too!
The Importance of Comfort
If you're going to spend many hours DJing then comfort is obviously a key factor to consider. Some headphone headbands cause a clamping effect that can cause fatigue, this type of distraction will not aid the creative process. Other headphones have a very light grip on the head and will move around, again not an aid to concentration. You should aim for somewhere in the middle, comfy but you don't want them falling off mid set. DJ headphones might also have articulated cups to help with single ear monitoring. As you will probably be wearing them for hours on end, the cups should feel good on your ears, also think about where the cable will be if you have an unconventional DJ style, they can be single or double sided.
Build Quality and Storage
DJ headphones must be tough, if you are gigging they will be stepped on, dragged around by the cable, stuffed in a bag or record box and will probably get very sweaty! If space in your travelling bag or case is limited then pick a small or folding model. Try not to choose your headphones by looks alone, sometimes it is much better to look professional than to look cool.
Pioneer HDJ Series
The logic seems to be that the models underneath the HDJ-2000 have benefited from the innovation and developments for the Flagship model. This always impresses me as not everyone can afford the top model in a range but it is nice to know you are benefiting from the same technology. Pioneer have made the HDJ range for live or studio monitoring but all the models work very well for listening to music on the go. DJ headphones do lend themselves to general portable use – Great sound, small size, folding parts, replaceable cables and tough construction. Whether you are a bedroom DJ or a Globe trotting superstar DJ you will probably use DJ headphones for listening to music too and possibly even making a little of your own. Pioneer have achieved three excellent models which could easily become the only pair of headphones you need.
Pioneer HDJ-2000
The HDJ-2000 itself is quite a hansom affair. Pioneer have straddled the difficult gap between Consumer and Pro Audio looks with impressive results. The magnesium alloy used in the swivel mechanism for the cups feels solid and lightweight.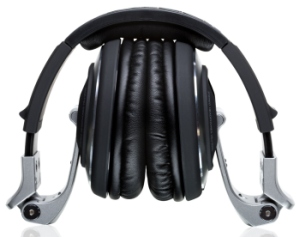 The Auto return feature, or i-hinge as they call it, swivels the cups back to their original position. This works really well and feels like it should be there. The headband is un-fussy and practical, it can be bent until it is nearly flat without any damage and the retractable arms for fit sizing are simple but sensible. The folding system works perfectly, the unit is actually quite small when folded. The Ear pads are made of an artificial Protein Leather, which I found convincingly leather like and comfy, these are filled with a heat reactive memory foam, not unlike the ever popular Comply tips. The heavy-duty build quality makes the HDJ-2000 durable and portable. The cable is fully replaceable, fitted to the headphone with a Mini XLR at the business end of a tough coiled 3m cable and a 3.5mm gold plated jack plug with 6.3mm adaptor at the other.
First Impressions
On first impressions, the sound is not exactly what I have come to expect from a DJ headphone, they have a more Hifi feel due to the level of detail, the sound feels pretty sophisticated. Although they have the typically short stereo imaging of a Closed back Headphone giving an inverted U shape to the audio, the separation is fantastic. You do not perceive that the sound extends far beyond your head but they feel uncluttered and the sense of space within the soundstage feels natural also the background is relatively dark.
The HDJ-2000s' 50mm driver units with high-flux magnets create convincing resolution, the top end feels bright but not aggressive, there is plenty of detail here but it never becomes constantly oppressive. Cymbals are handled really well. The bottom end is bigger than necessary for a balanced sound. The bass has body – there is decent weight but it is not excessive – the overall response is definitely big and warm but textured and controlled. The transition to the lower mids is well achieved with little evidence of mud. Mids follow a similar theme to the bass, warm and immediate, textured believable and engaging. Vocals were the big surprise, sweet and lush, quite forward but not overbearing. As the volume gets loud some elements can leap out as a little brash which makes them exciting, in quieter numbers the same effect comes across as sweetness. I would describe the sound as at the technically impressive end of fun sounding – a contemporary HiFi sound that suits the fan of complex Electronic music.
Verdict
The HDJ-2000 have superb clarity, clear instrument separation and maximum comfort whether you're performing in a packed club, listening for fun or practising at home. Even though they are very detailed, their fresh feel does not seem to fatigue or overpower. They definitely go a lot further than the average DJ headphone by offering greater fidelity, a few really innovative features and a tough but comfy build.
Pioneer HDJ-1000
Pioneer HDJ-1000 has become a common choice for the Pro DJ over the last few years but also appeal to serious music fans too. This headphone works well for basic studio applications and making music at home. They offer great sound quality, lightweight design and are not bad looking either. The 50mm driver units have the same high-flux magnet technology found in the HDJ-2000 creating a very decent level of detail and bass that is deep, warm and lush.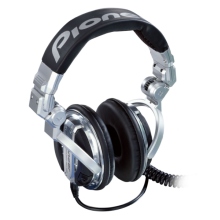 To improve monitoring, there is also a convenient stereo/mono switch. Each ear-cup gives excellent isolation and swivels a full 90 degrees, supporting DJs who prefer the 'on-shoulder' method of monitoring. When not in use the HDJ-1000 folds to reduce size, the cable is a 3m coiled type which terminates in a 3.5mm jack and comes with a 6.3mm adaptor.
A great sounding and well thought out unit which certainly fits the brief of the contemporary DJ. Robust build and great sound quality, folding cups and decent cable should put this on your shortlist.
Pioneer HDJ-500
Pioneer HDJ-500 Closed Back headphones are the junior model in the Pioneer range. They have been designed for a flexible DJ lifestyle by adapting to both DJing at home, in a club or listening on the go.The HDJ-500 is engineered with 40mm driver units to strongly reproduce a rich low-range and the mid level frequencies needed for accurate monitoring. The lightweight stylish design utilises technology from the Pioneer flagship model the HDJ-2000.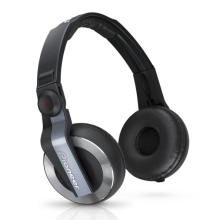 With its 60º rotating arm structure and flexible headband, the HDJ-500 is also completely adaptable to your personal DJing style. Top quality and style and sound are no longer reserved solely for professional DJs, but are now available to anyone who wants to get the most out of their Electronic music. Included are a 3m cord for DJ use and a 1.2m Single-sided coiled cable with 3.5 mm gold-plated jack plug and a screw-on 6.35mm stereo adapter.Professional sounding and looking headphones which will work on the train, in the bedroom or at the club.
More Information
For more information on the Pioneer Headphone range please visit the HiFi Headphones store.