Looking for an affordable, wireless on-ear set of headphones? The SoundMAGIC P23BT might just be perfect for you, with impressive sound quality and easy to use design they are quite the bargain.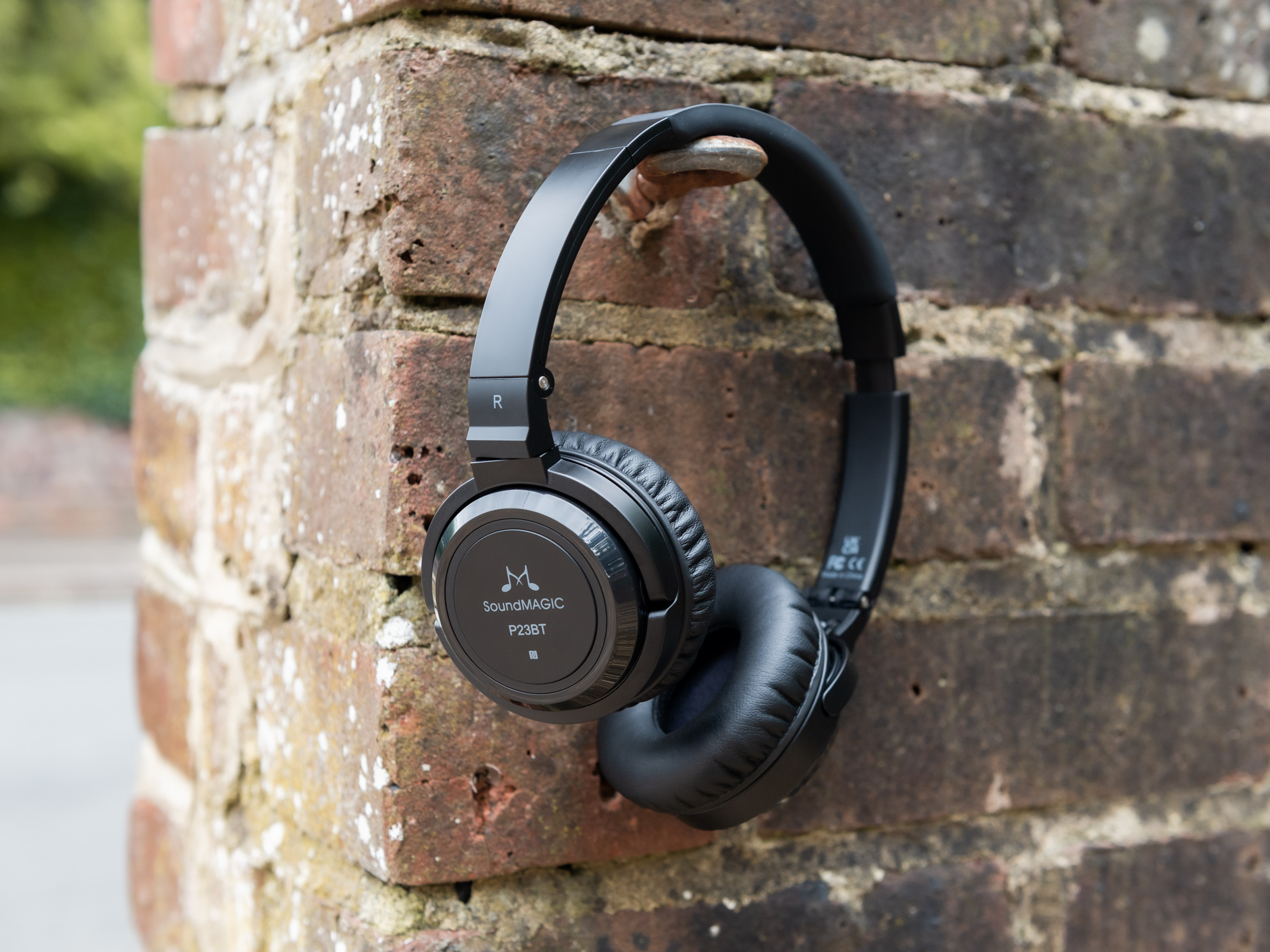 PROS
Excellent sound quality
Long battery life
Boom mic is a brilliant accessory
CONS
Build feels slightly cheap
Review Breakdown
Sound Quality

0

Features

0

Comfort

0

Value

0

Fit for intended purpose

0
Fit and Comfort
Here we review the new SoundMAGIC P23BT, an on-ear model which are compact in size and lightweight too. They will fit well over a wide range of head sizes due to a good amount of adjustment in the arms and the clamping force is just enough to provide a secure fit without inducing any discomfort.
Comfort is good, with the right amount of clamp to provide a secure yet comfortable fit I had no issues with the P23BT during longer listening sessions. The earpads are soft and provide ample cushioning, the headband has minimal padding but due to their weight this didn't seem to cause any issues for me.
Features
The P23BT use bluetooth 5.0, a little behind most modern devices that use 5.2 but they do have the benefit of aptX HD / SBC and AAC codec compatibility. They use a 40mm dynamic driver and have an incredible battery life of roughly 54-60hrs of music playback, or 39-45hrs talk time, these are not a headphone you will find yourself needing to charge very often.
They don't have ANC, instead rely on passive isolation, which is good enough for most daily use. These work wired too and come with a high quality boom mic attached to the analogue cable – this is a brilliant feature that makes them perfect for home office use too. We found that making sure there is no microphone boosting in the windows sound settings worked the best in terms of voice quality – but once set up the quality is excellent for video and voice calls when connected to a PC. These really are very versatile, and the boom mic is not something you see very often when it comes to this kind of product.
Playback controls are really easy to get the hand of, they use a touch pad on the left earcup and a simple double tap will pause the music, swipe up for volume up, down for volume down. Swipe forwards and backwards to skip tracks, you can also answer calls and activate voice assistant too. Call quality over bluetooth is perfectly acceptable in most environments but they are not the best for noisy outdoor calls.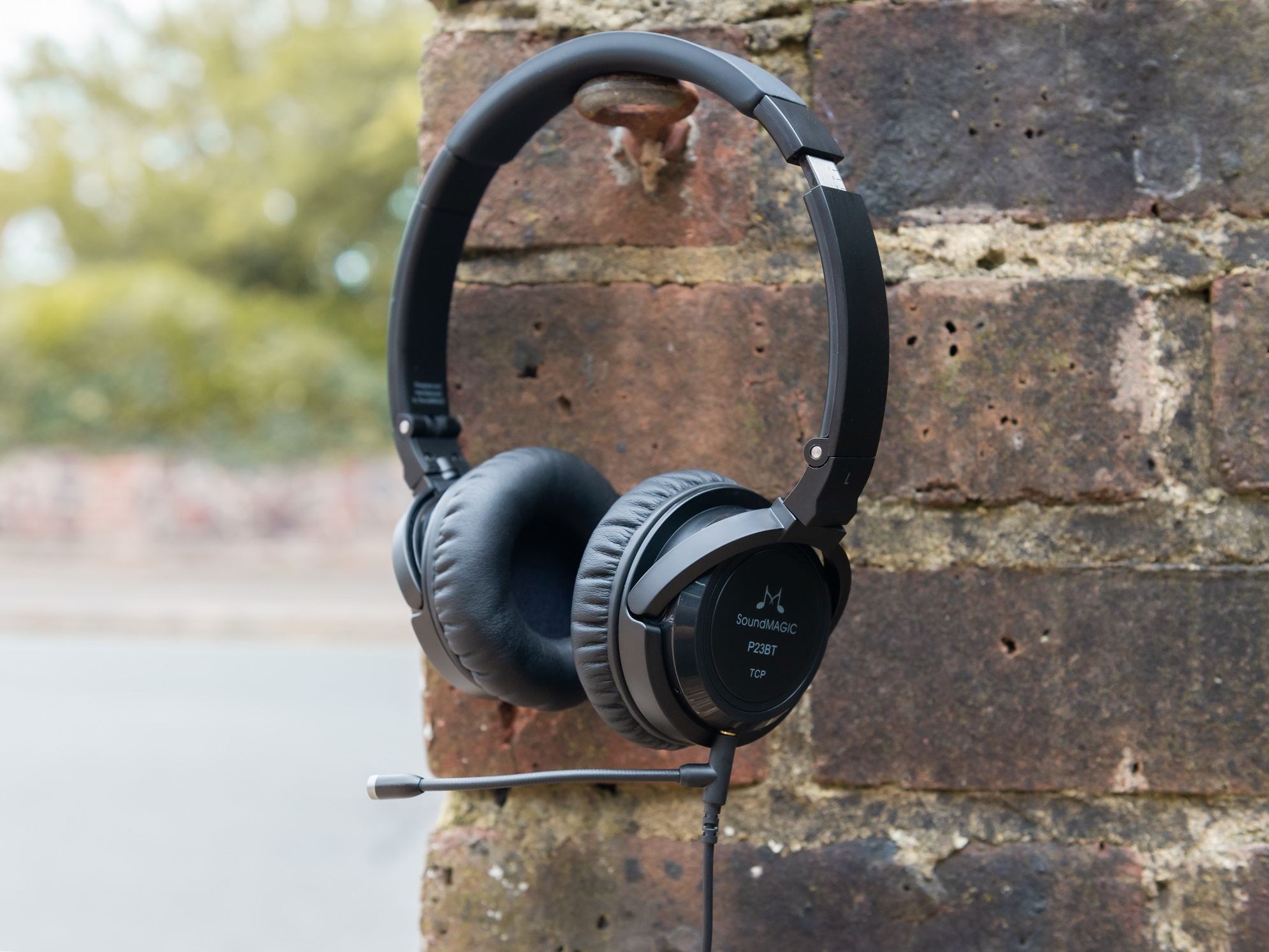 Sound
Bass: The P23BT is a well balanced headphone with just the right amount of warmth, body and punch down low to keep them engaging and enjoyable without overwhelming the rest of the sound. These are not bassy, they will not appeal to those who want a bass heavy sound, but those who want a daily headphone that works well with a multitude of genres will be happy with their sound and presentation. These do handle EQ well so if you do want a bit more punch, they can deliver, but out of the box they offer up a really enjoyable sound. The 40mm drivers can dig deep when needed, and hit hard too, but they are tuned in such a way that they do all of this with poise and control and never sound muffled or bloated.
Midrange: Due to the controlled low end, the P23BT actually has a very well presented midrange for a budget, more consumer oriented product. This means that those who enjoy vocal and guitars to sit and and central in the mix will really enjoy the P23BT – these don't follow the typical v-shaped sound that many consumer models have, this means you get to hear more in your favourite tracks. The bass does a good job at not bleeding into the midrange, which allows the P23BT to sound surprisingly well separated and detailed for the price. .
Treble: Surprisingly well refined up top, these have a crisp and clean treble presentation but with a smooth transition from the upper midrange into the lower treble they are also not harsh or sibilant. There is a bit of a peak slightly higher up the range, but it's not really fatiguing and tends to only show up on less well recorded music. There is good detail and extension up top, and the presence is good leaving them with a very pleasing tonal balance overall, never sounding dull. You do have to remember these are only £50, but for that price you get really impressive treble, normally you get muffled and splashy cymbals, instead of crisp and easy to distinguish and place crashes.
Soundstaging and Genres
The P23BT are not masters of soundstaging, but that's ok, they are on-ears and have quite a direct presentation but instruments are still easy to place within the limited soundstage.
These are a great all rounder, their balanced yet slightly punch sound signature makes rock and pop sound engaging, yet these have enough detail and finesse to render acoustic and jazz brilliantly.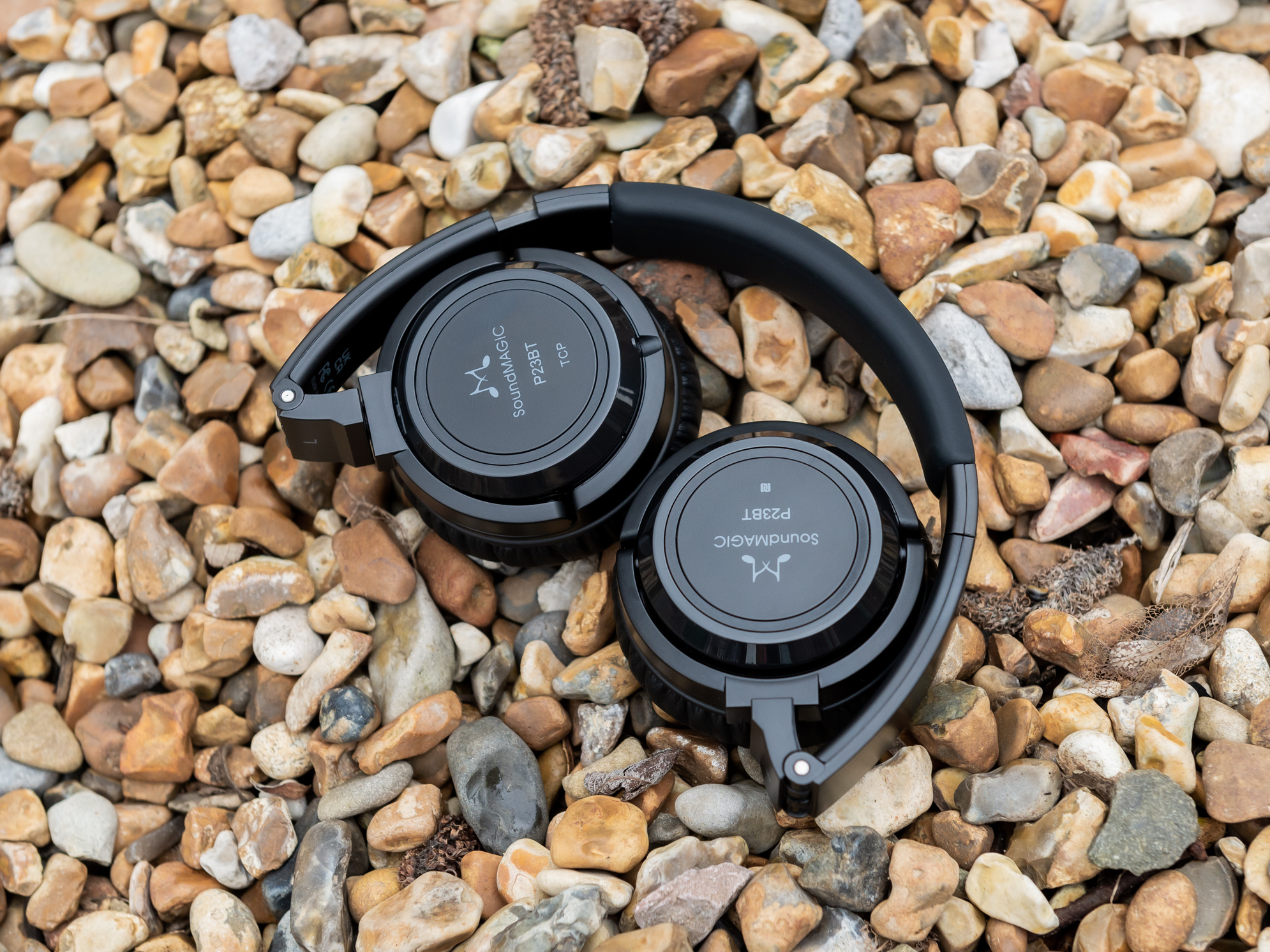 Who are they for?
The general listener who wants good sound quality at a modest price
Everyday users wanting a feature packed yet quality bluetooth headphone they can use at work and on the go
Conclusion
SoundMAGIC once again show that they are unrivalled when it comes to creating budget models with excellent sound quality, the P23BT has such an enjoyable sound that you quickly forget they only cost £50. The addition of a boom mic on the wired cable is really impressive for home working or office use, along with insane battery life for everyday use. Time will tell how the build quality holds up, but they feel well made and these really are excellent value for money.