JDS Labs initially planned to make an Element II+, but due to a few supply chain issues they went back to the drawing board and came up with the all new Element III – this is not just a slightly tweaked Element II.
PROS
Clean and powerful sound
Excellent build quality
Neat all-in-one desktop amp/DAC
Review Breakdown
Sound Quality

0

Features

0

Value

0

Fit for intended purpose

0
Features
Due to the AKM factory fire, JDS Labs had to refresh the Element II and decided to develop the Element II+ with a Cirrus Logic DAC chip, but due to increasing lead times from Cirrus Logic they decided to go down the ESS Sabre route for the all new Element III (prototypes with a CS and ESS Chip were developed alongside each other). Due to this development, JDS Labs decided to cancel the Element II+ and focus on something completely new that was audibly better, as just making the specs on paper better is boring and something JDS Labs wanted to avoid doing.
One of the main differences is the volume knob – it may look the same, but it now uses a digital attenuator instead of the analogue volume pot of old. This means you get audibly perfect channel balance right down to -127.5 dBFS – this allows you to listen at lower volumes and still get the same excellent sound quality. There is a negative though, the new Element III no longer has an analogue input due to the digital nature of the volume knob, but they have added an optical input alongside the USB – again this was done to achieve perfect channel balance and also allowed them to implement auto-gain.
The Element III has both USB and Optical inputs, and can still be used as a pre-amp via the RCA outputs. There is a small OLED screen on the Element III that shows you some key things like the volume and output selected (HP or pre-out), this is really handy as that was something that was hard to tell with the Element II. The screen turns off after a few seconds, and turns back on when you move the volume knob, and the power for the screen is separate to the audio channels to make sure there was no impact on the audio quality. There is a menu where you can change the brightness, timeout interval, Volume knob LED behaviour and DAC tuning (Filters, DPLL bandwidth, S/PDIF De-Emphasis and Harmonic compensation).
Auto-Gain is something really interesting, instead of a separate gain button the amp automatically changes to high-gain (+13.5dB) when the volume is pushed beyond the 0 dBFS threshold, at that point it also compensates volume (-13.5dB) for a near seamless transition. This means no more toggling between high and low gain to get the right listening levels.
As you can see, JDS Labs have implemented a lot of new features, and there are a few more geeky ones if you want to check them out (alongside measurements) – https://blog.jdslabs.com/2022/01/jds-labs-element-iii-official-release-benchmarks/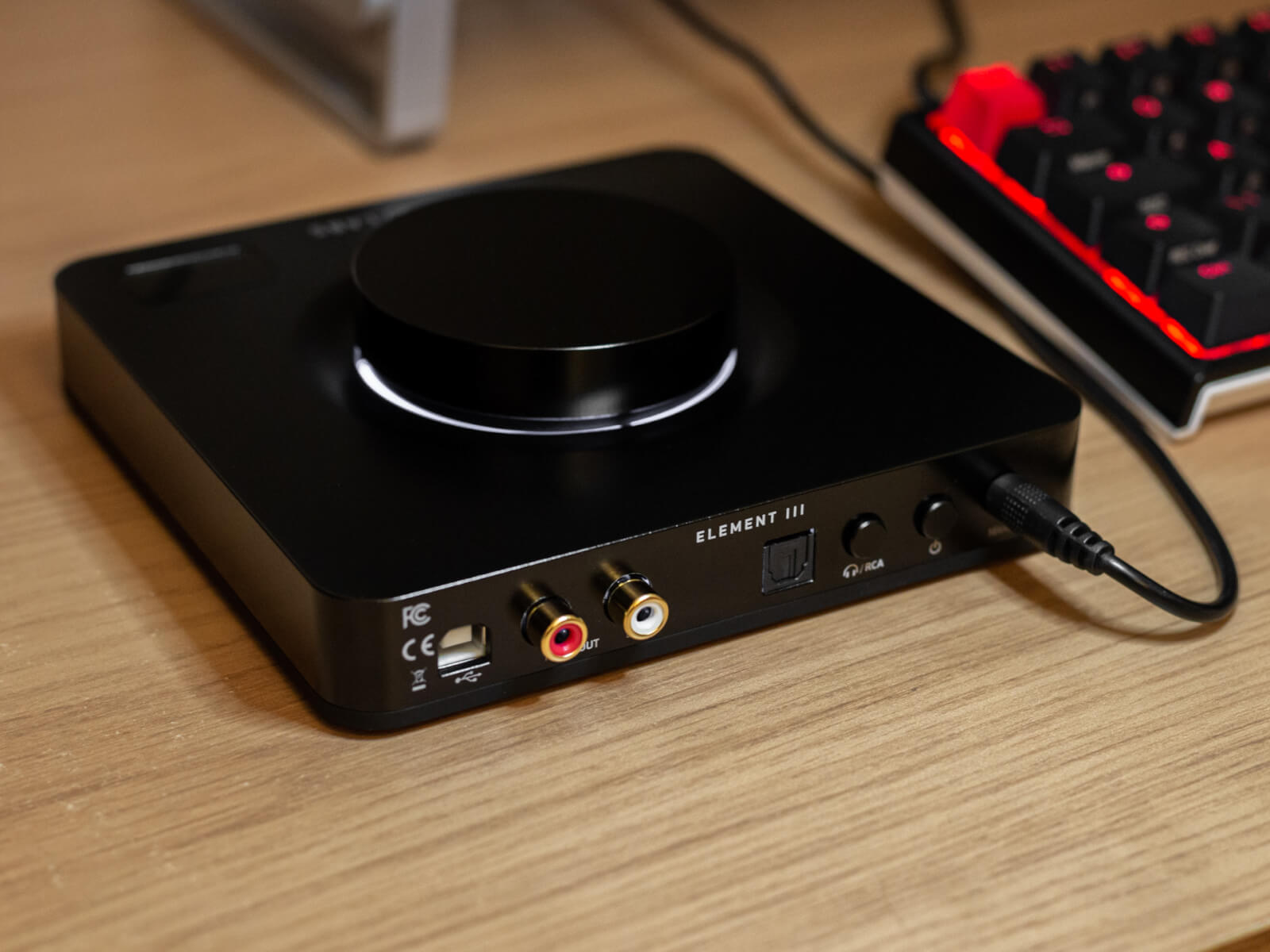 Compatibility
The Element III is a DAC/Amp combo that works with Optical and USB inputs, output wise it has RCA output for connecting to an external amplifier where you can use the Element III to control the volume, or have it set at 0 and use it as a pure DAC. On the front it has a 6.3mm headphone output, the internal amplifier is excellent and provides more than enough output power for most headphones on the market, from sensitive IEM's to 600Ohm hard to drive dynamic driver over-ears. The only headphones that need more power are low sensitivity planars like the HiFiMAN HE6/Susvara.
Sound
All the above doesn't really mean much if the Element III sounded bad – luckily JDS Labs know what they are doing and they decided to implement changes that benefitted the sound with the side effect of slightly better spec on paper too (inaudible). So often you see the chase for better spec, but JDS Labs decided that was boring and went for changes that make sense. I have been using an Element II for the last 2 years in my desktop setup, before that I had the original Element too. They have been excellent devices, and perfect for powering all different headphones without issue, they also make the perfect reference point and one that I am very familiar with.
The Element III brings things up a notch though, it still has that signature JDS Labs sound that is clean, linear and effortless but this time it feels smoother and less clinical. The perfect channel balance is something that is noticeable and a welcome addition to already excellent devices, you can now listen with even the most sensitive IEM's and have zero hiss, zero noise and also zero channel imbalance at low volumes, not that hiss/noise were ever issues before.
The Element III doesn't want to impart a sound signature, it is natural, neutral and extremely clean sounding which works wonders when it comes to feeding clean power to your headphones. I doesn't colour the sound, it won't flatter poor recordings or making things easier on your ear, however pair it with a pair of headphones you truly enjoy the signature of and you it just disappears in the system and gets out of the way of the music.
There is also a great opportunity for studio users to have the JDS Labs Element III in their system, it provides an exceptionally clean sound signature for recording and referencing work. The design is perfect for desktop users, I personally use it for listening to music and also when gaming, the volume knob is so easy to use. I also use it as a DAC only into another headphone amplifier and the DAC section is very well implemented, sounding very transparent.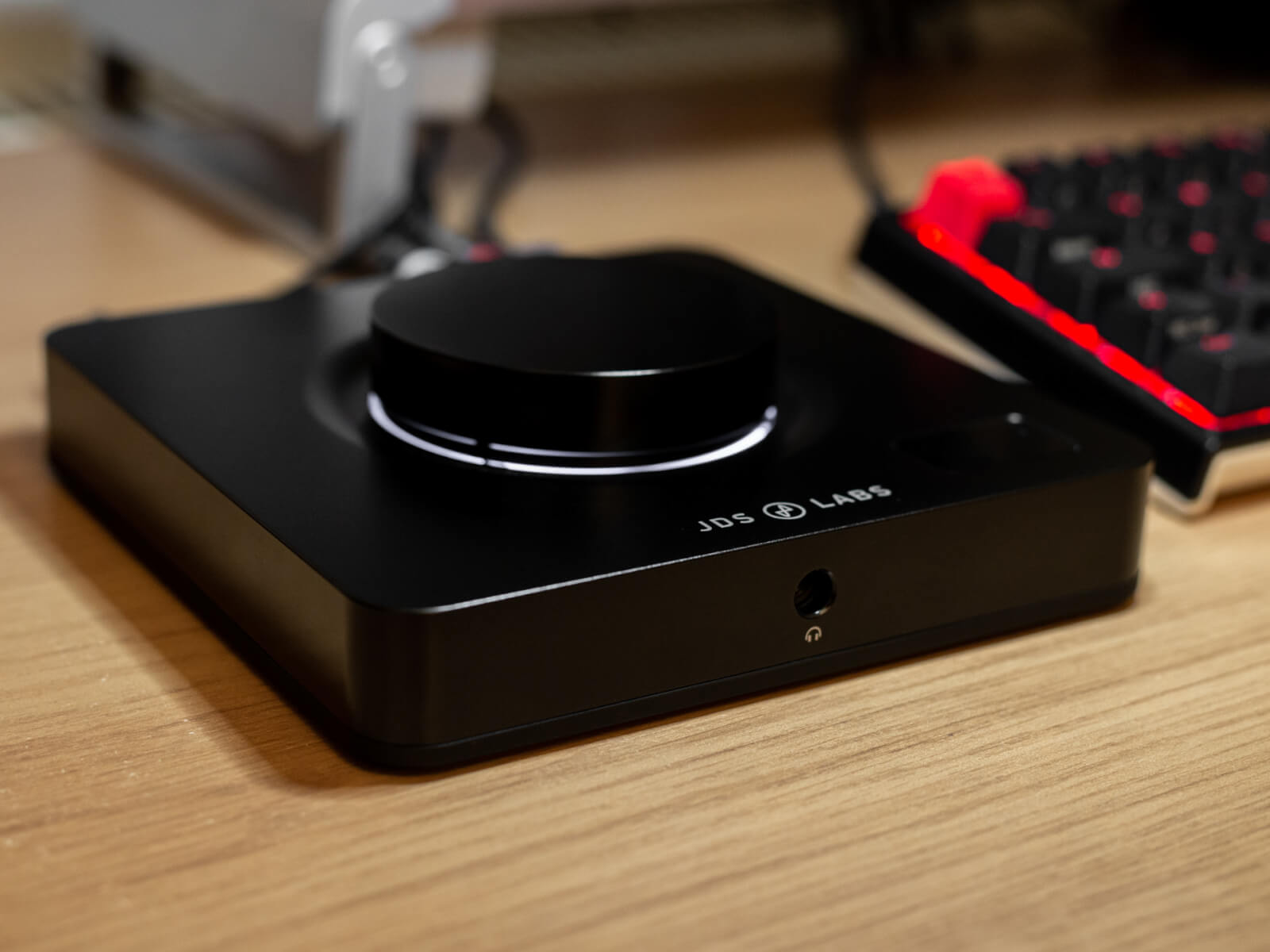 Conclusion
I have known and followed JDS Labs for a long time, and have enjoyed seeing their progression as a brand. They don't make revisions just for the sake of it, instead implementing things that people want and have asked for. The Element III isn't a simple refresh, it was built from the ground up around a new DAC chip and offers up the same excellent sound signature people have come to love in an improved package. The perfect channel balance, auto-gain and additional features make the Element III a very enjoyable device to use, along with being aesthetically pleasing too.